Microsoft Teams initially debuted in 2017 as a communication and collaboration service to compete with services like Slack. It arrived with major advantages: deep integration with Office 365/Microsoft 365 and Microsoft's extensive ecosystem of enterprise apps. Since then, Microsoft Teams has morphed into much more than that, becoming an all-around workplace companion. Many organizations choose to use Microsoft Teams, but what if you want something different? Keep reading to learn about the best Microsoft Teams competitors.
It's worth noting that the evolution of Microsoft Teams since its inception means it arguably has no true like-for-like competitor. But the list I've come up with here includes the best Microsoft Teams competitors and alternatives available today.
SuiteGuides.com is reader supported. If you make a purchase after clicking a link, we may earn a commission at no additional cost to you.
Quick Summary
In my view Zoom and Google Meet (within the broader Google Workspace productivity suite) are the top Microsoft Teams competitors, though Cisco Webex, and even Slack and Workplace (by Facebook's parent company, Meta) will be viewed as attractive alternatives to Teams by some organizations.
Today we'll explore:
Let's start off with Slack!
Slack
In some ways, Slack is the reason Microsoft Teams exists. It was the rapid growth of Slack that cemented Microsoft's opinion that there was a market for workplace chat solutions.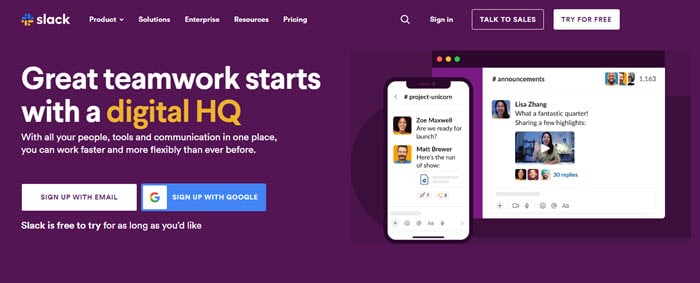 At least over the first two years of Teams' existence, Slack was its main competitor.
This was a problem for Slack because suddenly it had a major competitor which was baking a new app into an already existing product (Teams integration with Microsoft's Office suite, Microsoft 365).
To Slack's credit, the company just got on with business, expanded its feature set, and maintained its success. Sure, Teams is a much bigger service these days, but Slack remains an amazing enterprise app.
In 2021, Microsoft Teams and Slack are growing further apart. Slack continues to zero in on communication, whereas Teams is becoming an all-around application for enterprise collaboration.
So much so that Slack doesn't even classify Teams as a competitor.
Despite that widening gap between the services, it's clear the core of both apps remains similar. Slack shares many features with Teams, including video calls, screen sharing, file sharing, channels, chat communication, minor task management, and more.
What sets Slack apart is the way it plays nice with third-party apps. There are more than 2000 integrations available, including one with Microsoft Teams and Microsoft 365.
Slack is a winner when it comes to ease of use, and it's especially useful for smaller teams and organizations.
The free version is surprisingly robust, offering one-on-one video calls, 10,000 messages, channels, and 10 integrations. If you require more than that, plans start at $8 per user per month.
Google Workspace
It may be unfair to call Google Workspace a competitor to Microsoft Teams. Google's replacement for G-Suite is a collection of cloud-based productivity apps like Gmail, Drive, Docs, Sheets, and so on.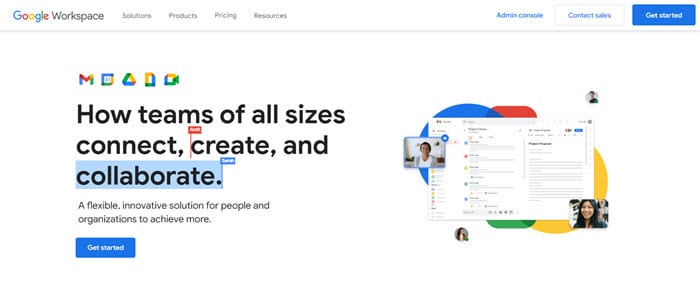 It is really competing with Microsoft 365/Office 365, of which Teams is part. So, is this a fair comparison?
It is when you evaluate the combined power of Google Chat and Google Meet.
With the combined power of these apps and the other cloud-based collaborative tools included within Google Workspace you can accomplish all the same things as Microsoft Teams, and even the full Microsoft office suite.
Like Microsoft 365, Google Workspace provides access to deep collaboration in the cloud. As the service transitioned from G Suite, Google put extra focus into creating a truly connected ecosystem.
Today, Google Workspace is the equal of Microsoft 365. In fact, it's outright better in many respects, which may be why it's rapidly gaining in market share.
In terms of being a direct competitor with Microsoft Teams, Google Meet is perhaps the best 1:1 competitor as a video and virtual meeting platform. The advantage for Teams comes that all the features in Teams are in one place, whereas in Workspace you may need to leverage more than one app to accomplish some of the same things.
For example, Google Meet is Google Workspace's video conferencing software, but you'll need to hop into Google Chat to keep a text conversation going after your video meeting wraps (with Teams you can keep the discussion going right in the same place).
That is why Google Workspace (for all its features that I love) still isn't quite as slick and seamless as a single product like the one Microsoft has with Teams.
Zoom
Zoom is a strange inclusion on this list because it would not be a real competitor to Teams if it were not for Microsoft. Since Zoom's stratospheric rise to success in 2020, Microsoft decided it would aim to make the video conferencing app a real competitor.
In other words, video conferencing on Microsoft Teams was an after-thought. When COVID-19 came along and kicked off a global generation of remote workers, Zoom grew from 10 million users to over 300 million in under two months.
My mom still calls every video conference call "a Zoom" because it became so ubiquitous.
Microsoft quickly responded to make Teams a competitor with Zoom in video communication. Thanks to rapid feature growth, Teams has caught up to Zoom in many aspects of video conferencing.
However, Zoom remains the more robust solution if video communication is a core aspect of your organization. For all-around collaboration and cross-organization communication, Microsoft Teams remains the better option.
In fact, the competition between Zoom and Microsoft Teams has become a two-way street as Zoom is now working to boost the collaboration aspects of its platform.
Cisco Webex Teams
Cisco Webex Teams is perhaps the closest like-for-like competitor with Microsoft Teams, albeit with one major limitation. Webex Teams is exclusively for organizations that use Cisco VoIP devices.
Of course, many businesses do use those devices but there are more than enough that don't. If your organization does not use Cisco VoIP, Webex Teams is a no-go from the start.
If you do, the platform known as Cisco Spark delivers enterprise-ready collaboration and enterprise tools. This is much more of a tool for organizations than for consumers or small-business teams.
Webex Teams gets all the core features you expect, such as video conferencing, visual collaboration, document sharing, editing, whiteboarding, presentations, chat, file sharing, calendars, and more. This platform can also make calls to phones, a capability that Microsoft Teams lacks.
Despite being for a specific platform of devices, Cisco Webex Teams has a large selection of third-party integrations. Available at the AppHub, you'll find add-ons from Dropbox, Google, Salesforce, and Microsoft.
Facebook Meta Workplace
Despite launching Workplace back in 2016, it still feels like Facebook is being too cautious with this enterprise platform. However, Workplace by Meta delivers a host of communication and collaboration tools and may be ideal for businesses with close links to the social network.
What Workplace does well is tie together all of Facebook's business-grade tools within one service. So, you get Live Video, Groups, Pages, Video Calls, Messenger, and News Feed all working in unison within Workplace.
It's an interesting service, but I think it's only perfect for businesses already deeply engrained within Facebook's ecosystem. For everyone else, Microsoft Teams and its other alternatives are much better options.
My Final Thoughts About Microsoft Teams Competitors
Microsoft Teams has come a long way since it launched in 2017. Over the proceeding years, Microsoft has morphed the app into a catch-all service for collaboration and communication within a workplace.
While targeting Slack at first, Microsoft has positioned Teams against many other types of enterprise collaboration tools. So much so that the company is now working on a competitor to Trello that will integrate directly with Teams.
These factors make pinpointing a true competitor for Microsoft Teams a tough task. It's easy to see why some business owners get confused when looking for an alternative to Microsoft's service.
However, the apps and platforms I've listed here do a good job at providing direct competition to Teams, with some surpassing Microsoft's app in specific areas.