Not sure whether Bitdefender or Malwarebytes is a better choice? You've come to the right place. I'll explore the ways each program works to protect users, their respective strengths and weaknesses, and other factors you should think about when comparing these two anti-virus options. So, let's get started with my Bitdefender vs Malwarebytes comparison.
Malwarebytes and Bitdefender both offer a combination of heuristic and signature scanning tools. This approach is extremely effective at keeping you safe from zero-day and known types of malware. Each gives you many different additional features that secure your devices from cyber threats.
Here's an overview of what I'll discuss in this Bitdefender vs Malwarebytes comparison:
What is Bitdefender?
Bitdefender Suite Options
What is Malwarebytes?
Malwarebytes Suite Options
Performance Comparison
System Performance Impact Comparison
Which Software is More User-Friendly?
Pricing Comparison
Popularity Comparison
Our Verdict
SuiteGuides.com is reader supported. If you make a purchase after clicking a link, we may earn a commission at no additional cost to you.
What is Bitdefender?
Bitdefender provides outstanding malware protection. It will also scan external hard drivers and extra USBs, looking for infections.
The Safe File Vault feature is a tool for protecting valuable documents from potential ransomware attacks.
You can keep your video stream safe with Webcam Shield. There is also password protection, as well as a virtual keyboard.
You can use these features for protection from keyloggers. Bitdefender also has a password manager to help you with automated log-ins.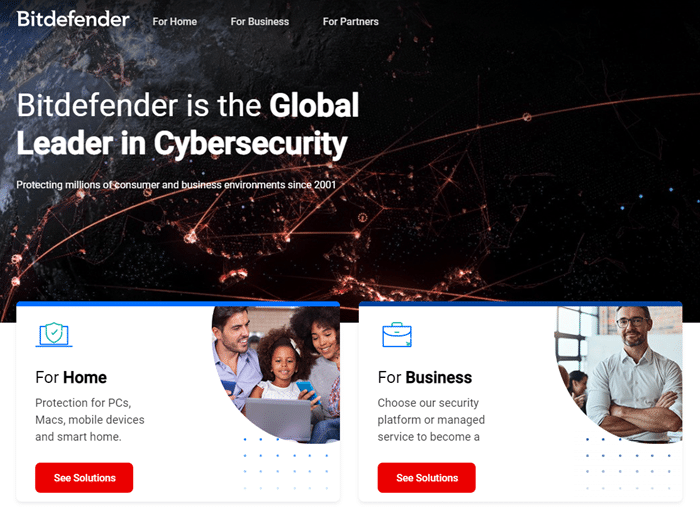 There is a potential downside to Bitdefender's many useful features: it may make your device operate a bit more slowly.
Your system's characteristics impact the exact features you'll get from Bitdefender. For example, whether you use Windows or Mac iOS matters.
With Windows, there are a few different package options.
Bitdefender Suite Options
Let's look at some of Bitdefender's suite options.
Bitdefender Antivirus Free
This is Bitdefender's most basic antivirus software. It doesn't have much malware protection and it lacks extra utility tools and advanced security-related features.
This freeware does give you anti-phishing attack protection, though. This will help prevent you from being victimized by fraudulent websites.
Bitdefender Antivirus Plus 2021
Check out Bitdefender Antivirus Plus 2021 if you want a higher tier. This option provides outstanding malware protection.
You will also get a password manager, which means you can keep all your passwords in one location, making logging into sites simple and easy.
There is also a hardened browser (this makes shopping and banking safer and more secure). Bitdefender Antivirus Plus 2021 has a file-shredding capability, too.
You can use this for permanently deleting sensitive files in a way that means they can never be recovered. You get extra ransomware protection, as well.
Bitdefender Internet Security 2021
You will get even more with Bitdefender Internet Security 2021.
With this option, you get all the features found in the Plus suite, as well as an email spam filter (this blocks out phishing/junk emails), a two-wall firewall, and a file encryption tool (this means that you can create password-protected and encrypted drives).
This suite also offers a parental control filer, but it's a bit limited.
Bitdefender Total Security 2021
Bitdefender Total Security 2021 is the option for you if you want the most popular and extensive Bitdefender suite. This suite comes with everything the Internet Security option has, plus there are special optimization features.
These include Disk Cleanup, OneClick Optimizer, and Startup Optimizer. There is also an anti-theft module. This is a tool for finding stolen and lost devices.
This suite features an an excellent parental control filter, as well as a VPN (with limited features). You will be able to protect as many as five devices (Windows, Mac, Android, and iOS) with just one Total Security license.
Experts say that Bitdefender Total Security 2021 provides outstanding value.
What is Malwarebytes?
Malwarebytes protects you against a wide range of online threats. It includes web protection, as well as rootkit scanning and options for scheduling scans in advance.
Malwarebytes lets you control the smallest aspects of scanning. These are called granular elements.
You can see all the details of past activity with a report history.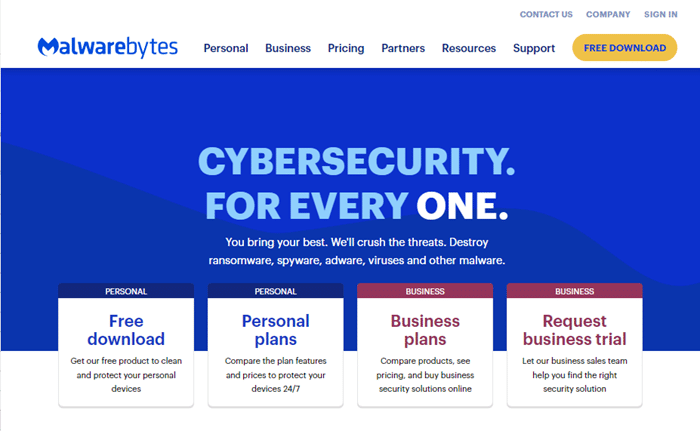 Malwarebytes is very user-friendly and it guides you with pop-ups about various threats and what you should do to deal with them. Check out the integrated support tool if you have any questions about how to use Malwarebytes.
You may be eligible for cash prizes if you report any new bugs to Malwarebytes! There are regular drawings.
Malwarebytes Suite Options
Malwarebytes offers two tiers. Let's take a look at these suites and their features below.
Malwarebytes Free Tier
The free version of Malwarebytes is only compatible with the Windows platform. This is Malwarebytes' free anti-malware tier.
The free Malwarebytes tier doesn't offer any real-time protection for malware or other attacks.
Instead, it will only detect malware that is already on your device. It is also able to remove that malware.
Malwarebytes Premium
Malwarebytes Premium is Malwarebytes' paid-tier security product. It gives you real-time protection against a wide variety of malware threats.
It also provides online security (protection against dangerous websites), an excellent anti-exploit module, as well as protection from ransomware for your sensitive files.
You can use Malwarebytes Premium with Mac systems as well as Windows and Android.
This tier is available at different price levels. How much you pay depends on how many devices you need to protect.
Performance Comparison: Bitdefender vs Malwarebytes
Malware is a broad-ranging term that covers a wide variety of threats, including ransomware, spyware, viruses, worms, and more.
There are usually two kinds of malware. These are:
Known Malware (also called widespread malware), and
Unknown Malware (also called zero-day malware).
Known malware is usually easier to detect, as programs are already able to recognize it. Simple signature-based scanning can detect them.
Signature-based scanning involves the comparison of suspicious files against an enormous definition file library.
Unknown malware, on the other hand, is much trickier to detect. That is because it won't have any earlier signatures in libraries.
AV-Comparatives and AV-Test are two famous security labs that do regular and thorough examinations of the performance of popular antivirus products.
Bitdefender Performance Testing
Bitdefender showed excellent performance in recent AV-Test evaluations.
These evaluations took place in 2018 and were done on the Windows 10 Platform. Bitdefender had perfect performance when it came to protection.
It blocked out a full 100 percent of malware samples, both zero-day and widespread.
Malwarebytes Performance Testing
Malwarebytes doesn't take part in independent lab tests. That is because it specializes in protecting from zero-day malware (malware that it has never seen in the past).
It isn't very effective with malware that was created years before. As a result of this, taking part in tests that use old malware tends to reflect badly on Malwarebytes.
Malwarebytes generally advises its users to use its product alongside another antivirus program (specifically one that uses signature-matching). This will give you excellent protection against both zero-day malware and widespread malware.
This shortcoming in Malwarebytes means that if you want a stand-alone app that protects against all kinds of threats, Bitdefender is the better option.
How Do They Impact System Performance?
When you install a new app on your device, it will impact system performance (computer speed). Remember that security products must run continuously in the background in order to keep you protected. So the impact any given program will have on your PC use is important.
You may end up with system performance problems (otherwise known as computer slowdowns) if an app takes up a lot of your system's resources.
Bitdefender does extremely well when it comes to system performance. It is unlikely to slow down your computer with any kind of other activity.
Experts haven't been able to evaluate Malwarebytes' system performance impact as it doesn't take part in independent tests. That said, I actually have Malwarebytes installed on my system and haven't noticed any system slowdown since installing it. In addition to regular browsing and web activities, I do a fair amount of photo editing and work with a lot of data in large spreadsheets. For the last week I've had my CPU usage window open and haven't even noticed Malwarebytes on there, meaning that on my system it's using minimal resources.
The fact that Malwarebytes is such a popular program probably means that it does reasonably well with system performance. You will need to try it on your device to find out how it will affect your system, but for me it's not an issue.
Which Anti-Virus App is More User-Friendly?
Both Bitdefender and Malwarebytes are known for being user-friendly.
Bitdefender has a simple and clean interface. It has a vertical menu on the left-hand side of the screen, and this lists specific items: Privacy, Protection, Activity, Tools, Account, Notifications, Support, and Settings.
You see the protection window when you open the Bitdefender interface. The left-hand side of the screen is where you will see your protection status.
There are also links for running a Vulnerability Scan or Quick Scan. There are also status tiles related to Bitdefender's app protection, web protection, and file protection.
Bitdefender has an Auto-Pilot feature, which I like. Most of us want cyber protection we can basically set and forget, right? This has a toggle switch you can use.
Auto-Pilot will make important security decisions independently, without requiring any input from you. When you go to the Tools and Privacy pages, you will see important features and settings.
The rest of the interface is extremely intuitive.
Malwarebytes also has an intuitive and user-friendly interface. It has a menu on the left-hand side of the screen where you will find the Reports, Settings, Quarantine, Scan, and Dashboard options.
The Dashboard window is Malwarebytes' default view.
This is where you can run scans and view your protection status. You can view the status of various modules, including exploit protection and web protection, as well as last scan details and protection history on the left-hand side of the screen.
I have an article where I go in-depth about whether Malwarebytes is good and its UX and options right here.
Price Comparison: Malwarebytes vs Bitdefender
Let's go through the pricing for Bitdefender and Malwarebytes' different tiers and options:
Malwarebytes
Bitdefender
Is Bitdefender or Malwarebytes More Popular?
Bitdefender and Malwarebytes are both extremely popular. It's difficult to find the exact numbers for comparison, but Malwarebytes indicates that there are at least 290,000 downloads of its app each and every day. This speaks to not only its popularity, but how ubiquitous malware is in today's online world (and the importance of having good Malware protection).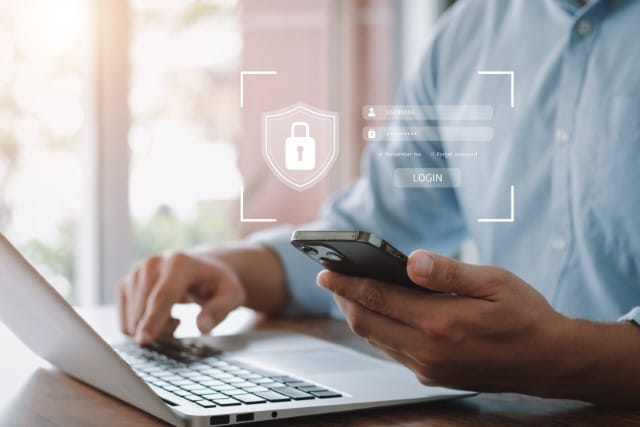 Bitdefender says that it has more than 500 million users around the world.
Malwarebytes vs Bitdefender Market Share
When it comes to market share reports, Malwarebytes seems to be in a stronger position. In a report from July 2018, Malwarebytes has 13.09 percent of market share (in the anti-virus field), while Bitdefender has 8.23 percent.
If we assume that Bitdefender's claim of 500M users is correct, some simple math based on its 8.23% market share tells us that the total antivirus market is about 6,075,335,143 users. This would mean that Malwarebytes has about 795,261,239 users to Bitdefender's 500,000,000 (almost 300M more).
These are only estimates based on the data that is available and that I was able to find.
The Verdict: Overall, Bitdefender Comes Out on Top
While Malwarebytes is more widely used, experts consider Bitdefender the better choice overall for businesses and personal use, and I agree with this assessment. Bitdefender has more security features, as well as additional utilities in its software products. Malwarebytes may be better at offering real-time protection against zero-day malware, but as a stand-alone product its protection is not quite as robust as what's offered by Bitdefender.
Also, independent testing indicates that Bitdefender is more effective than Malwarebytes when it comes to malware protection and how it impacts system performance. (note that this point comes with a big asterisk because Malwarebytes doesn't participate in this testing)
Security Software is a Personal Decision
Choosing security software is a personal decision that depends on your system as well as your personal preferences and needs. Bitdefender and Malwarebytes are both popular and useful applications, which need not be considered as exclusive options.
On my home business PC, for example, I use Malwarebytes for its zero-day malware protection, along with a more robust antivirus suite (I use Norton, but Bitdefender, Kaspersky, and McAfee are all strong choices as well).
Take your time looking at the features of each and doing your research before making a decision about which one would be best for you. I hope that my Bitdefender vs Malwarebytes comparison here has helped you navigate your options and make an informed choice.