You've probably heard that Malwarebytes offers a free anti-malware scanning app as well as a premium paid version. But are these online security programs worth it? Is Malwarebytes any good? And what does it do well? I've used Malwarebytes (it's actually installed and active on my PC right now) so I have all the information you need. Keep reading to learn more.
Here's what I'll discuss in this Malwarebytes guide:
Introduction to Malwarebytes
Is Malwarebytes Enough By Itself?
Malwarebytes Plans and Pricing
Overview of the Pros and Cons of Malwarebytes
SuiteGuides.com is reader supported. If you make a purchase after clicking a link, we may earn a commission at no additional cost to you.
Introduction to Malwarebytes
In the past, Malwarebytes was exclusively a malware scanning and cleaning application. At that time, you had to use it together with an antivirus program if you wanted protection against viruses.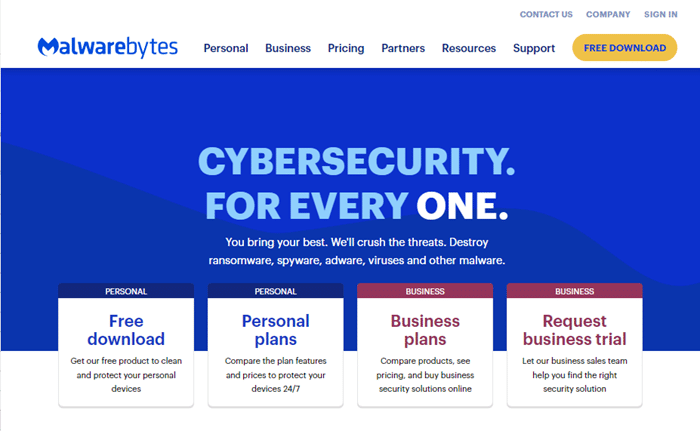 Today, however, the paid version of Malwarebytes also offers antivirus protection. If you go with the free tier of Malwarebytes, however, you will still need to get antivirus protection with a separate program (they offer a free trial, but once that's expired premium features and real-time protection are gone).
The paid version of Malwarebytes (Malwarebytes Premium) is an excellent antivirus and anti-malware program. It provides real-time malware threat protection.
Malwarebytes is known to have outstanding protection, and it has a high rate of malware detection and removal. However, the Malwarebytes scanner can give some false positives.
You Miss Out on the Extras With Malwarebytes
A major shortcoming is that Malwarebytes doesn't offer the same range of additional security features as many other internet security suites. You won't get parental controls, network scanning, a firewall, a VPN, or a password manager with Malwarebytes.
Unlike many other security software companies, Malwarebytes provides updates only when it deems them necessary.
When you sign up for the free version of Malwarebytes, you are given the option of enjoying a 14-day trial of the Premium plan. Malwarebytes is easy to install and it has a better user interface than it used to.
The main window is in pastel shades, and there is a banner at the top. There are three rectangular panels in the window.
One of these panels shows detection history, while another shows real-time protection options, and another one starts a scan.
These panels are disabled in the free version of Malwarebytes.
Is Malwarebytes Enough By Itself?
The paid version of Malwarebytes is enough by itself because it includes real-time anti-virus as well as malware protection.
However, the free version isn't. While it has malware protection, it doesn't have anti-virus protection.
With all the technological advances in malware and other kinds of destructive software used by malicious actors that we see today, simple malware detection can never be enough.
If you decide to pony up the cash, you will get excellent antivirus protection, with layers such as behavior-based detection, heuristic detection, and additional kinds of non-signature protection.
If you choose to get Premium, the software will use machine learning as well as the ability to detect anomalous behavior. This will catch a wide variety of malware samples.
With exploit protection, you will get a warning of attack vectors and deflecting of exploits. With the anti-ransomware engine, behavioral detection is the sole method.
If you are concerned about ransomware, be aware that the ransomware protection part can only be found separately. It is called Malwarebytes Anti-Ransomware Beta. It seems like the only download page for this separate software is from a 2016 blog post, so it may be out-of-date (and less effective than you need).
Malwarebytes Has Three Scan Tests
Malwarebytes has three kinds of scan tests:
Threat Scan
Custom Scan
Hyper Scan
The Threat Scan looks for places that are most probably infected, including your device's registry, memory, and start-up. The Custom Scan lets you select which of your system's areas should be checked.
The Hyper Scan does a quick check of memory and start-up objects, searching for malware.
Malwarebytes has a fast scanning engine, and you can schedule scans at regular intervals so you never have to remember to check your system.
In fact, its Threat Scan works much more quickly than McAfee, Panda, and other well-known antivirus applications such as Kaspersky. Malwarebytes's scanning engine takes only 10 seconds to work.
This application collects suspicious software from user systems. These are then analyzed and the app uses them in generating daily updates.
Go to Settings if you want to opt out of data collection. There is a toggle between Usage and Threat Statistics.
Premium vs Free Scans
If you go with the Premium Malwarebytes plan, you will get hourly updates. If you want, you can make the updates more frequent.
You can choose a scan interval as short as 15 minutes or as long as 14 days. This feature is a fantastic addition that some other kinds of antivirus programs lack. For example, Avast doesn't have them.
If you go with the free version of Malwarebytes, you will need to do manual scans, and you may need to re-download the tool after updates to their malware database, since that won't be updated automatically.
This is just one reason why you shouldn't try to use the free tier as a primary anti-virus program, though if you suspect you have malware it's a great tool for a free malware check and removal on your system. If you have a paid Kaspersky subscription, you could do a fresh download on the first of each month and run a scan just for some added security.
Or you could subscribe to both tools (recommended).
Malwarebytes Plans and Pricing Options
As mentioned, there is a free version that you can use, but it doesn't cover viruses. Free Malwarebytes only helps protect you from malware. It's my preferred tool for this, and when I've had malware in the past it has quickly and safely removed the malware without costing me a penny.
If you go with a paid plan, you will enjoy anti-virus protection as well as the benefits of a 60-day money-back guarantee if you're a new user.
This refund policy isn't applicable to business subscriptions, however. It also doesn't apply to renewal subscriptions.
For mobile devices, you can get Malwarebytes through the Apple App Store or Google Play.
You will not get real-time protection with the free tier, and that's important. After the expiration of the 14-day trial for the paid version, you will just have the free version's Threat Scan feature.
This feature is only able to find and clean off malware that is already on your device. This Threat Scan, however, can be very useful to use in tandem with an antivirus program (such as Norton).
As mentioned earlier, the free Malwarebytes plan only gives you malware scanning abilities. The software can only detect malware that is already on your computer and it will not detect or protect you from viruses.
If you decide to go with paid Malwarebytes plans, you will get real-time protection from viruses and malware. This will stop these malicious programs from infecting the device through heuristic analysis and Malwarebytes's multiple (four) layers of simultaneous protection.
Paid Package Options in Malwarebytes for Home Users
There are two different paid packages available in Malwarebytes:
Premium for Home
Premium for You plans
These two plans differ in the number of devices they cover and how much they cost.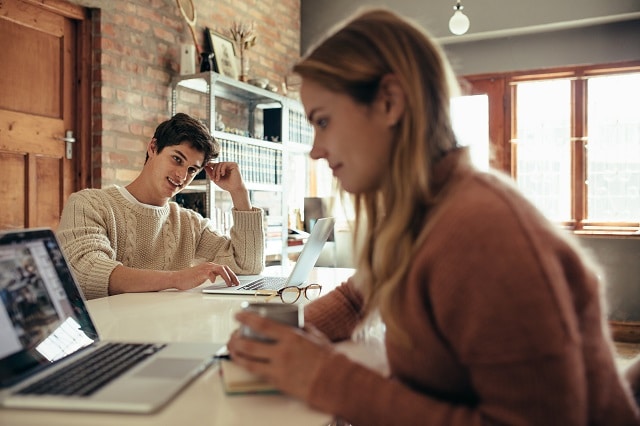 The Premium for You plan can be used on just one device.
The Premium for Home plan covers as many as three devices. If you're willing to pay extra, you can cover as many as 10 devices.
When you cover more devices, you get a discount. The discount increases as you increase the number of devices covered.
With Premium for Home, you're able to use a variety of different kinds of devices together. These include Windows, Android, macOS, iOS, and Chrome OS.
If the members of your family use several different kinds of devices, this may be a great plan for you.
Malwarebytes Business Plan Pricing
If you thinking about one of Malwarebytes's business plans, you will enjoy their advanced features.
These include exploit mitigation and application hardening, features that protect apps from becoming compromised.
There are three different Malwarebytes business plans:
Endpoint Protection
For Teams
Endpoint Protection and Response
Malwarebytes for Teams
Malwarebytes for Teams can be used with Windows, Chrome OS, Mac, and Android. This is the most affordable business plan with Malwarebytes. This plan will cover between one and 20 devices.
That makes it great for small businesses. What distinguishes this plan from paid personal plans is its additional protection for Android and its priority support.
Malwarebytes Endpoint Protection
You can use Malwarebytes Endpoint Protection only for Windows and Mac devices. You may cover between 10 and an unlimited number of devices, depending on your specifications.
With Endpoint Protection, you get all the features available for teams in addition to special security policies, centralized cloud management, and a dedicated technical account manager.
Malwarebytes Endpoint Protection and Response
The only platform you can use this on is Windows. With this plan, you get everything the other plans offer plus EDR (endpoint detection and response) capabilities.
Overview of the Pros and Cons of Malwarebytes
As we've seen here, Malwarebytes is a useful tool as long as you understand what you're getting and what its limitations are. For one thing, you only get malware detection capabilities with the free version.
That's why you should have a different anti-virus program on your computer if you have the free tier of Malwarebytes.
Let's go over the pros and cons of this malware protection app below:
Pros
Paid tier includes real-time anti-virus and anti-malware protection
Paid tier offers real-time malware threat protection
High rate of malware detection and removal
There are home plans and business plans to choose from
Cons
Free tier doesn't have anti-virus protection
Scanner sometimes has false positives
Free and paid tiers lack features like parental controls, network scanning, a VPN, a password manager, or a firewall
Final Thoughts
Yes, Malwarebytes can be a good option. In particular, there are two circumstances where it is very good:
You have the paid version, which includes anti-virus and malware protection, OR
You use an anti-virus program from another company in tandem with the free version of Malwarebytes
Personally, I fall into the second camp. I use Norton antivirus in tandem with Malwarebytes on my PC, and find that together I can enjoy enhanced protection. There have been quite a few times where one program caught a malicious script or piece of malware that the other missed, and I feel better having the second layer of cyber security.
So, the main takeaway here? You cannot rely on the free version of Malwarebytes on its own. It doesn't have anti-virus protection, leaving you open to threats online.
The paid version, however, is highly effective at protecting you from both malware and viruses. Personally, I still like the layered protection of running two programs simultaneously on my system.
.