Are you in the process of choosing between Slack and Trello for your company's project management and collaboration app? Perhaps you're just in the early stages of researching this type of collaborative and project management software. In either case, you need a thoughtful comparison of Slack vs Trello to make an informed decision, and that's what I'll try to offer here today.
It's important to read a comparison that digs into and compares:
the most important features (the ones that will actually matter to your team),
each product's price structure,
the security concerns that come with using Slack vs Trello,
how easy they are to learn and use, and more.
This is exactly what you will get here.
By the time you finish this article comparing Trello vs Slack for business and personal use, you will know which option is best for your company, your team, and your budget.
And I'll also explain why some companies actually use both.
Let's jump into a quick side-by-side comparison, and then we'll start with a discussion about using both apps in tandem.
SuiteGuides.com is reader supported. If you make a purchase after clicking a link, we may earn a commission at no additional cost to you.
Quick Slack vs Trello Comparison
| Slack | Trello |
| --- | --- |
| Slack primarily focuses on communication. It does have some limited project management functionality. | Trello focuses on project management and collaboration. It has some limited communication functions. |
| Slack has a free option and several paid tiers. Price is per user. | Trello has a free option and several paid tiers. Price is per user. |
| While Slack is quite intuitive, the fact that it has more features and options than Trello means that it can be a little more difficult to learn. | Trello is famously easy to learn and use. Its user interface was designed with ease of use as the most important factor. |
I should also note that I used Trello both at my former place of business, and for the marketing business I started when I went out on my own. Eventually, I upgraded to ClickUp after trialing Monday, Asana, and a few other options in this space as well.
With apps like this (which all offer a freemium version or a free trial), I'm a huge fan of taking the software out for a spin myself and kicking the tires. What works best for one user and organization won't for the next – so ultimately the choice between any of these tools comes down to personal preference.
How Slack and Trello Can Be Used Together
While you can choose just one if you want, many business owners find that Trello and Slack are perfect for using together.
Slack is communication-focused as primarily an instant messaging application for the workplace.
It does include very limited task management features, but communication features are the strongest attraction with this system. Slack has amazing instant messaging features.
Trello, on the other hand, is much more of a dedicated workflow management system. With Trello, all users can use Kanban boards for task organization. Trello lets you use @mentions and comments for communication, but this isn't as efficient and effective as the instant messaging feature you get with Slack.
The apps are used together so frequently that each have created integrations for the other. There is a Trello app that you can use with Slack and a Slack Power-Up that you can use in Trello.
These were created because of how popular an option it is to use both systems together in an integrated way.
Understanding Trello
Trello is known primarily as a tool for collaboration and project management. With Trello, it's simple and easy to know the tasks being worked on and who is working on them.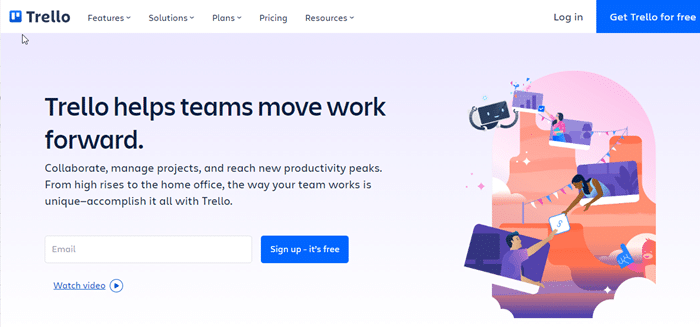 Trello's interface includes a large board that lets you create and position many different cards and lists. These let you view how your projects and tasks are progressing at a glance.
Features of Trello
Let's take a look at some of Trello's features:
Trello is focused on project management and collaboration. It offers a wide variety of advanced tools in this area.
It has default list names of "Things to Do," "Doing," and "Done." You can change these names to whatever you want and you can add other lists, too.
In each list, you are able to add tasks. This is done in the form of cards. You may also assign specific members of your team to each task. Due dates can also be added to the cards.
You can set the board so that all members of your organization can see it, so that only specific members of the organization can see it, or so that the public can see it. This is adjustable in the visibility settings.
Understanding Slack
Slack is primarily an instant messaging tool, so the focus of this tool is communication. Communication, of course, is important in collaboration. You can use Slack as the hub for all communication in your organization.
This app features channels and workspaces that mean you can share files and communicate with all team members. You can use Slack for both group discussions and private discussions. While Slack focuses mostly on communication, it does have limited project management tools.
Features of Slack
Let's take a look at some of Slack's features:
Slack is primarily a communication and messaging tool.
This app allows for file sharing with your team members. This makes it easy to create access to project files and messages. These features mean you won't have to share the files and messages across other platforms.
Slack lets you organize communication into specific channels for individual team members. You can also use channels that all organization members can access.
There is a Direct Message function that lets you have private discussions with one (or several) of your team members.
You can do video and voice calls with Slack, too. You will be able to share your screen with team members during video conferences. This is extremely useful when you are giving instructional presentations. Be aware, however, that this capability is only available for Standard paid plans and above.
Comparing Trello vs Slack – User Experience & Learning Curve
Both Slack and Trello are known for having attractive and intuitive user interfaces. Let's take a closer look at the ease of use of both Slack and Trello.
Slack: Ease of Use
When compared to Trello, Slack is slightly more challenging. That is because Slack has more features and options. Still, learning Slack is quite easy and you shouldn't be worried about it taking too long to learn.
Slack is recognized for being relatively easy to use and quite simple to get started with. It's known for being geared to an amazing user experience.
If someone wants to join a workspace, all they have to do is put in the workspace name to which they were invited. Once this is done, they will be able to access all of the team's channels that they have been given permissions to access.
Setting up a workspace is also an easy process. Once you have signed up through your email, put in the verification code that will have been sent to you. After that, put in your company name, as well as the projects on which your team is working.
After that, you can add in some members of your team so that they have access to the channel. You do this by inputting their email addresses.
You can see a wide range of options in Slack simply by clicking on your name. This is found at the page's left-hand side at the top. This will bring you to your profile, as well as your preferences and account. You can change your account information, such as your contact information and bio.
You won't have to worry about channels being complicated. It's simple and easy to pin messages that will put then at the top of a channel. This will make sure that your team members see them.
Recommended: Slack vs Asana Comparison
Trello: Ease of Use
Trello has a user interface that is incredibly easy to use and you won't have to spend ages setting it up. Usability was clearly a major focus in its design.
The only information you will need to input to create your account are your name, email address, and a password. You will be given a dashboard for creation of a new board as soon as you do this.
You will notice that your initials are found in the upper right-hand corner of the dashboard. When you click on that, you will be able to see information such as your profile, settings, activity, cards, and keyboard shortcuts.
How Much Do Slack and Trello Cost?
It's time to find out about how much you'll pay for Trello vs Slack and which features are offered for different plan options.
Trello Pricing
Trello has a free plan option. There are also three paid tiers that offer progressively more features. Trello's pricing will vary depending on how many users will be on the platform in your organization.
If you want the Gold plan, you will pay $5 monthly for each member. So for example, if there will be 10 users on the board, the fee for the Gold plan will be $50 monthly.
If you want the Business Class plan, you will pay $12.50 per user per month.
With the Enterprise plan, the fee per user is $20.83 monthly. If you decide to pay annually instead of monthly, you will get discounted fees.
If you go with the Standard Trello plan, you will have up to ten team boards, as well as one Power-Up per board. File uploads can be up to 10MB for each file.
If you decide to get the Gold plan instead, you will have three Power-Ups for each board, as well as the ability to do up to 250 MB file size. There are also custom board background, extra stickers, and custom emoji features.
Trello's Business and Enterprise levels offer an enormous variety of features. These levels are best if you have very large projects and teams.
Slack Pricing
Like Trello, Slack also offers a free plan. In addition to that, it has paid tiers, including Standard, Plus, and Enterprise. If you decide to get a paid plan, you will pay a monthly fee per user.
Slack's Standard plan's fee is $8 per user on a monthly basis. The Plus tier is $15 per user per month. If you pay the fees on annual instead of monthly basis, you will get a reduction in cost.
The Enterprise level's pricing isn't made public by the company, and you will have to make inquiries if you think this plan might be best for your organization.
Still on the fence, check out my recent article listing some of Slack's competitors for alternatives you might consider.