Google Workspace, formerly known as G Suite, is a collection of Google's professional services and cloud-based productivity apps available by monthly subscription. Launching in 2006, Google has recently rebranded to Workspace to fit the modern business climate. There are several Workspace plans available, although smaller businesses tend to opt for the Google Workspace Business Starter license.
There are a few reasons why the Google Workspace Business Starter plan may be a good choice for you. This includes thing like the plan's features and price point. In this article, I'll help you determine if the Business Starter license is right for you. I'll also discuss when it might be better to upgrade.
What is the Google Workspace Business Starter Plan?
In short, the Google Workspace Business Starter plan is a cloud-based office productivity suite. It includes Google's apps, such as Gmail, Meet, Calendar, Docs, and Drive. The Starter plan can accommodate up to 300 staff, with each user having 30 GB of storage.
If you're considering purchasing this plan for your company, then you probably have a number of questions. In particular, is it worth it?
In this article, I'll go over what the plan has to offer and how it compares to other Google Workspace plans. I'll also cover whether it's really worth the financial investment, or if a different Workspace license would be better (or a different productivity suite altogether).
Let's get right into what you're getting when you purchase your license.
What's Included with Google's Business Starter Plan?
The Starter plan will allow you access to the whole Suite of apps, including:
Gmail: Allows you to send and receive emails with custom domains. For example, if your company name is Sparrow Speakers, you can create the domain @sparrowspeakers. If you have an employee called Jane, her professional email could be [email protected].
Video and Voice calls with Meet: Google Meet allows you to partake in live conversations in order to complete tasks and collaborate virtually. It can host up to 100 participants per call.
Calendar: The Calendar app allows you to plan and share the company's collective schedule as well as each individual's schedule.
Collaborative documents using Docs: Google Docs, Sheets, and Slides permit teams to co-edit files, spreadsheets, and presentations. Even while working remotely from their respective homes.
Storage with Drive: With Drive, you can back up and store files in the cloud (with up to 30 GB storage for each user).
Additionally, you will have access to round the clock support from the Google Workspace team.

Why is this Better than the Free Version of Google Apps?
Whatever your business, it's highly likely that you use Google to help run it. Whether that's simply through using Google Docs to share documents with your employees, or by using Gmail to contact customers and workmates. Chances are, you are utilizing Google's services to one degree or another.
Since these services are available to you for free, you might be wondering why you should pay for Google Workspace. However, there are a variety of very beneficial services not available to users of the free services.
Here is a list of all of the advantages of using the Workspace over Google's free tools and services:
As a free user, you are required to use each service separately. Workspace subscribers are able to use all tools on an integrated platform and view Gmail, Docs, Meet, etc. in one central place.
As an administrator, you can manage all user accounts and security settings from a central Admin console. If everyone is using their private Gmail accounts, you would be unable to do this.
Google Workspace's Drive provides twice as much storage as free usage.
You have access to 24/7 phone and email support from the Google Workspace team.
You can create a custom business email (@yourcompany.com) for up to 300 users.
Price of Google Workspace Business Starter Plan
As the most basic Workspace plan, it is the cheapest of the available subscriptions at only $6 per user per month.
By comparison, the Business Standard edition is at an elevated price of $12 per user per month, while the Business Plus edition is $18.
There is also a month's free trial available. This allows you to test out the features and decide whether it's a good fit for you or your company before committing to the monthly payments.
When it comes to making the payments, there are two available plans:
The Flexible Plan
You are charged monthly and are able to remove and add accounts at any time while only pay for the accounts you have during a paying month. You are able to cancel the service at any point without having to pay a fee.
Annual/Fixed-Term Plan
You commit to paying for the service for a whole year at a time. As your business grows and acquires more employees, you can purchase more licenses. If you decide to cancel your subscription before your contract is completed, then you will still pay the full amount. This payment plan is not available when signing up online.

Who is the Business Starter Plan For?
The Business Starter Plan offers a range of useful features to improve the efficiency of your company's communication. However, it is not suitable for every business.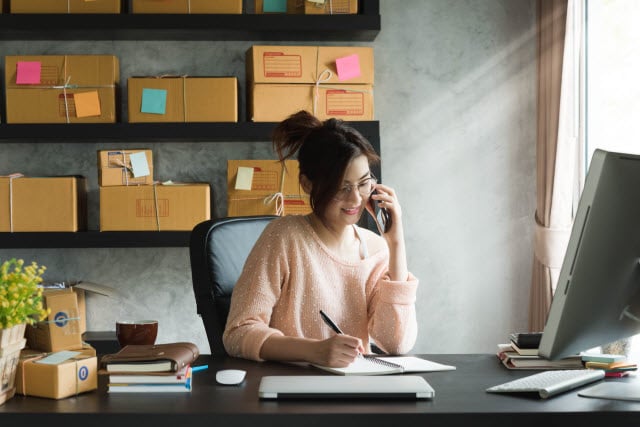 Generally speaking, the Starter Plan works best for the following kinds of companies:
Small to medium-sized businesses that are looking to acquire a toolset to aid collaboration between team members.
Freelancers who want to be able to share their work more easily with collaborators and clients, while being able to affordably acquire a professional email.
All companies looking to move into cloud-based storage and real-time collaborative documents. This includes those looking to optimize the virtual work environment.
How It Compares to Workspace's Other Options
Naturally, the premium services (Google Workspace Business Standard and Business Plus) have more features than the Business Starter Plan.
However, in terms of core services, there is not much difference. The Starter Plan is therefore recommended for small businesses trying out Workspace for the first time.
In case you're considering an upgrade in the future, here's a quick guide to what the Starter Plan lacks compared to its pricier counterparts:
Less storage (30GB compared to 2/5TB)
Fewer participants permitted in Google Meet (100 compared to 150/250)
Cannot record meetings through Google Meet
Cannot use features such as Q&A, Hand raising, or Polls on Google Meet
Fewer Device Management tools
Fewer Drive & Doc Editor functions
All plans cater to up to 300 users. However, while the Business Starter plan only permits 30 GB of storage per user, the Business Standard and Business Plus plans permit 2 TB and 5 TB, respectively. This is significantly more, and companies that require greater storage will potentially need to consider opting for the upgraded versions.
Business Starter only allows up to 100 participants to attend Google Meet calls, whereas Business Standard and Business Plus allow 150 and 250 participants, respectively. If you have a company of 200+ people and would like to hold whole-company meetings, then it might be wiser to consider the upgraded versions … especially with how critical video conferencing has become.
In addition, with Business Starter, you cannot record meetings on Meet or use the Q&A, Hand Raising, or Polls Functions, whereas you can with the other Plans. With Business Plus, you are even able to track meeting attendance.
For a more detailed, side-by-side comparison of the available workspace plans, check here.
Is It Worth It?
If you're a small business looking to optimize virtual collaboration and communication between teams, then Google Workspace is certainly something worth trying out.
As working from home becomes the norm, it's more important than ever to seek out solutions to ensure your business is able to work effectively online. Google Workspace provides a means for small companies to flourish in the online sphere, by aiding teamwork and making it easier to manage multiple online tools simultaneously.