We've all heard of Microsoft Defender (formerly Windows Defender) but maybe you haven't really thought about it much before. But now you're wondering whether you could use that app to protect your computer on its own, without needing a third-party security program. Can you get enough protection just from Microsoft Defender, or should you augment it with a third-party anti-virus and malware blocking software, such as Norton, Kaspersky, Malwarebytes or McAfee? That's exactly what I'll discuss in today's article: Is Microsoft Defender enough?
In a word: No, Microsoft Defender isn't usually enough to protect your device on its own. Even though it's much better than it was in the past, it still has shortcomings (especially for businesses).
In this article, I'll discuss:
What is Microsoft Defender?
The Best Anti-Virus System Options

Norton
Bitdefender
McAfee
Avira
Total AV
Kaspersky Anti-Virus
Webroot SecureAnywhere Antivirus

Microsoft Defender Usually Isn't Enough on Its Own
SuiteGuides.com is reader supported. If you make a purchase after clicking a link, we may earn a commission at no additional cost to you.
What is Microsoft Defender?
If you last used Microsoft Defender (formerly called Windows Defender) several years ago, you probably thought it was pretty inadequate. But the app has improved and is now a much more capable cybersecurity tool.
In fact, many people consider it a quite good free antivirus option. Examples of Microsoft Defender's new capabilities include cloud-based malware detection and sandboxing.
These features improve overall protection and facilitate faster threat detection.
Unfortunately, though, experts say that Microsoft Defender still fails to block some viruses in many instances. These are viruses that other kinds of virus programs quickly caught.
One reason for Microsoft Defender's inadequacies is the fact that it doesn't update the Defender database anywhere near frequently enough. If one of these new viruses gets through while you're using Microsoft Defender, Microsoft will say it is your fault and that you should have been using an additional antivirus program.
Not cool, Microsoft. Not cool.
How it Works
Microsoft Defender Antivirus protection is cloud-delivered. This ensures almost instant detection of new threats, as well as blocking of these threats. Again – the process for detection is good, it's how often their threat database is updated that is the problem. If that's addressed in the future, it may be a more robust and trustworthy option.
Defender does the same with emerging threats, offering BAFS (block at first sight) protection.
It also has PUA (potentially unwanted applications) protection.
A drawback of Microsoft Defender is the fact it doesn't offer the variety of products that many other third-party anti-virus options do to protect your windows PC.
Many third-party companies offer features such as parental controls, a VPN, password manager, and backup protection. In many cases, all these components are part of the security suite you're paying for.
So, in short, Microsoft Defender still isn't good enough to use as your primary anti-virus software in my view.
Will it block some threats? Definitely.
Should you expect it to catch everything? Definitely not.
Let's take a look at some of the best anti-virus options on the market. I recommend that you use one of these in addition to your Microsoft Defender product.
The Best Anti-Virus System Options
Below I'll go over some of the best and most popular anti-virus applications. You can choose one of these to supplement the capabilities of Microsoft Defender.
The options I'll cover include:
Norton
Norton is considered one of the best options for anti-virus software.
With Norton, you get features such as:
Real-Time Protection
Norton gives you real-time threat protection with advanced security. This anti-virus tool will help protect your device against new and developing online threats.
It will also help to protect financial data and other private information that you use online.
Firewall Protection
If you have a PC, Norton provides Smart Firewall. For Mac, the firewall is just called Firewall.
Norton's Firewall protection feature keeps track of communication between your computer and other devices. It will help to block out any unauthorized traffic.
Cloud Backup for PC
Norton lets you store your important documents and files to help prevent data loss that can happen as a result of a device being stolen, hard drive failures, and ransomware (check with Norton for specific facts about protecting yourself from ransomware).
Password Manager
Norton provides tools to create, manage, and store passwords, as well as other kinds of credentials (such as credit card information) with more security.
Bitdefender
Many recognize Bitdefender as having the most effective detection rate in the industry.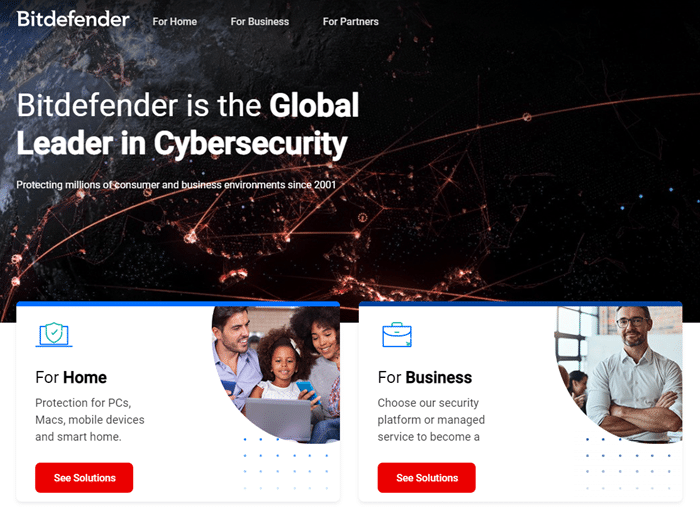 This system uses advanced AI (Artificial Intelligence), as well as other advanced technologies for anticipating, detecting, and automatically blocking threats, including the newest ones out there.
Another attractive Bitdefender feature is how the app takes up the least amount of space possible on your device. At the same time, its optimization tools are able to improve boot-up time and device performance.
Bitdefender has excellent anti-phishing features. This is important as online phishing scams are becoming more and more common.
Bitdefender is able to detect and block websites that pretend to be trustworthy but are there to steal your personal information, such as credit card numbers and passwords.
This program is especially useful for protecting you during online banking. It gives you a special and dedicated browser that keeps your transactions secure.
If you're especially concerned about protecting yourself from fraud, Bitdefender could be the answer.
Bitdefender is a VPN, so you also enjoy anonymity while you explore the web. It encrypts all your traffic online.
If you're watching a movie or working, Bitdefender will know and not create distractions with requests that don't need to be dealt with right away.
Bitdefender is capable of stopping insignificant background activities, adjusting your visual settings, and temporarily blocking pop-ups.
McAfee
McAfee is a famous name in virus protection for good reason. This program helps you defend your devices against the most current viruses, spyware, malware, and ransomware.
It is also useful for securing your identity and privacy.
This program makes different levels of service available, so you can choose one that best suits your needs.
With the Individual plan, you will get:
Optimized performance
Outstanding anti-virus protection
Security for your home network
Encrypted storage
McAfee Shredder
Secure web browsing
A password manager
Online support and security experts
Avira
Avira offers a wide range of features to keep you and your information safe online. It provides antivirus protection, blocking every online threat.
This application also includes spyware, ransomware, and malicious websites. You also get access to a free VPN.
This means you can make your online activities completely anonymous, including emails, chats, and browsing. The VPN has a 500 MB monthly limit.
Avira also boosts the performance of your PC, giving it more speed and allowing your computer to start more quickly.
Avira has identity protection features, too. The Password Manager makes it easy to keep your online accounts secure.
It helps to create unique and strong passwords that you will not have to remember.
This program also offers a firewall that walls off your device's vulnerable access points. This makes it more difficult for hackers to get in.
Avira also provides software updates, that patch places where you are vulnerable by updating drivers and apps. Avira also has a PC cleaner feature.
If you'd like, you can get rid of digital traces of specific apps and browsers.
Total AV
Total AV is another anti-virus program that may fit your needs and preferences. It has anti-adware, anti-malware, anti-ransomware, and anti-spyware features.
Total AV also offers a remote firewall, real-time protection, and the ability to use the app on different kinds of devices. It will also detect phishing sites and stop them from getting your information.
This anti-virus software is compatible with a variety of different devices, and you can use it on your smartphone, tablet, laptop, and desktop. It protects you from phishing sites, blocking sites if they seem suspicious.
With Total AV, you get real-time protection.
Kaspersky Anti-Virus
Kaspersky Anti-Virus is another option for anti-virus protection. It's known for being especially strong in the area of ransomware protection.
This app features bonus scans to check for performance and privacy. The company offers full-scale live chat and phone support.
However, Kaspersky's vulnerability scan doesn't provide very much information. Also, the bonus scans have quite a bit of overlap.
Webroot SecureAnywhere AntiVirus
If none of these options suit you, perhaps consider Webroot SecureAnywhere Antivirus. This antivirus option doesn't use up much space on your device.
Webroot SecureAnywhere AntiVirus boasts an excellent malware protection test. Additionally, it may be effective at significantly reducing ransomware risk.
Webroot has advanced features and fast scanning capability. It does well with anti-phishing protection and it is outstanding with malware protection.
Some drawbacks, however, include the fact that its unique detection techniques mean it has had only limited lab test results. You can use Webroot on both PC and Mac.
Webroot's malware protection functions a bit differently than other anti-virus products. If you decide to go with Webroot, you'll need to be aware of this and know how the system works.
If you're unfamiliar with this kind of system, you may prefer to go with something that has a more conventional design.
Microsoft Defender Usually Isn't Enough on Its Own
In most cases, you shouldn't depend on Microsoft Defender by itself as your anti-virus protection. Instead, you should add a third-party anti-virus and online security app.
Getting extra protection is especially important if you're using devices for your business and are dealing with a lot of confidential information.
Consider your own or your business's specific needs when making a decision. If you deal with a lot of confidential and/or financial information, anti-virus and anti-malware protection will be especially important.
Most of these security apps work by scanning for known viruses and malware in a database, and how good a company is at keeping their virus definitions and database up to date is (in my experience) one of the strongest predictors of how reliable that software will be at protecting you.
As we've learned that encryption plays a part in online security and keeping your data safe, why not learn a bit more about it? Take a look at my article explaining how encryption works.