The need for video conferencing has skyrocketed over the past few years, and while Zoom was positioned to capitalize on the initial COVID-19 Lockdown surge in demand, two major players in the space have been steadily making up ground. With so many different video conferencing apps available, choosing one can be tricky. I've used both Microsoft Teams and Google Meet for communication with my distributed team, so I can introduce you to these applications and compare them. Today, I'm bringing you a complete Microsoft Teams vs Google Meet comparison.
I'll be sharing the information I would want to know myself as a small business owner trying to decide between these two video conferencing apps, relying both on company specs and features and my own experience using both products.
Here's a quick summary of my thoughts for those who aren't looking for an in-depth comparison of Google Meet vs Microsoft Teams:
In general, Microsoft Teams will be the better choice for larger businesses. It offers the ability to have more members on a call for a lower price, and its breakout rooms and the ability to continue chat right in the app after a call finishes are both nice-to-have features many corporate users will appreciate.
Google Meet is what I recommend for startups and smaller teams. It's a snappy and intuitive video calling app with excellent call quality and security. It offers business owners enhanced features such as call recording and attendance tracking. Having meetings automatically recorded and saved to Drive is great for distributed teams like mine with members spread across many time zones (no need to take notes or send a follow-up email, I just use Zapier to automatically email the link to the recording).
Here's an overview of what I'll explore below:
What is Microsoft Teams?
What is Google Meet?
Microsoft Teams vs Google Meet
Features Comparison Chart: Microsoft Teams vs Google Meet
Let's go!
SuiteGuides.com is reader supported. If you make a purchase after clicking a link, we may earn a commission at no additional cost to you.
What is Microsoft Teams?
Microsoft Teams is a business communication platform. It is part of a plethora of Microsoft 365 products.
Teams provides a workspace and the ability to communicate with other members of the organization along with storage through OneDrive and its Office applications as well.
From its inception, Microsoft Teams was always aimed at business enterprises. In the last few years, though, many educational institutions have started using this app, too.
What is Google Meet?
Originally known as Hangouts Meet, Google Meet is Google's video-conferencing application. The app allows you to make two-way or multi-way audio and video calls.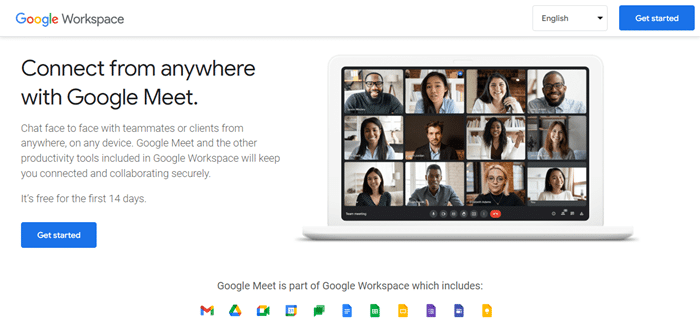 Anyone with a Google account is able to access the free version of Google Meet, although a paid version will provide far more features and functionalities. I'll explain exactly what you can expect when upgrading to Google Workspace in a moment.

Microsoft Teams vs Google Meet
Microsoft and Google are both technology giants, so you'd probably feel comfortable with either application. But you need to find out whether Teams or Meet would best fit your needs.
Below I cut right to the chase, briefly explaining which app is better equipped for different criteria which are probably going to guide your decision.
Microsoft Teams Offers More Price Tier Options
One advantage Microsoft Teams has when compared to Google Meet is how it provides more price point options than Meet. In other words, it has a greater variety of tiers, so you can find one that suits your needs and budget.
If budget is your primary concern, but you definitely want a paid license, then I'd encourage you to check out Teams – it may offer a better fit for your business.
Microsoft Teams Has More Productivity Features
As mentioned earlier, Microsoft Teams was created for businesses and enterprises. It's far more than just a video calling application.
At its core, Teams is a collaborative productivity app, which just so happens to include video calling capabilities.
Both Google Workspace and Microsoft 365 offer a host of productivity tools and apps that work together to satisfy just about every need a business may have. So it may not be fair to compare Teams to Meet in this regard, but if you're looking at a product-to-product comparison, Teams offers more features as a stand-alone product.
Google Meet is Easier to Access
One of Google Meet's advantages is that it's available for anyone with a Google account. You'll also have the support of all of the amazing features that come with a Google Workspace license.
If you take advantage of Google Workspace features, you'll be able to record your Google Meet meetings. You can also have longer video calls than you could with the free version of the app.
These are awesome features, and in terms of accessibility and ease of use, I have to give the edge to Google Meet.
Google Meets Doesn't Have After-Call Chat Functionality
A downside of Google Meet is that it doesn't provide chat functionality after your call finishes. For that, you can use the Chat section in your professional Gmail Mailbox.
While that chat feature performs well, there are times when you may want to keep the conversation going with the team that was on a call, and the ability to continue dialogue and respond to follow-up questions in the chat within Teams is very convenient. I think this is a great feature in Microsoft Teams, and if you can see yourself using your video conferencing app in this way, Teams may be better for you.
Microsoft Teams Allows More Participants on Calls
Think about your organization's size when deciding what you want. Google Meet's calls are limited to 150 participants, while Microsoft Teams can go up to 300 for its basic paid services, and up to 10,000 for the Microsoft 365 E3 license.
If you're a small or mid-sized business, or even a large business that can't envision hosting calls with hundreds of participants then this likely should not be the factor that determines your choice, but if you want to host large, company-wide calls then consider Teams.
Below I've put together two tables which will allow you to quickly compare the plan, price, and call number limit and extra features:
| Google Meet License | Number of Call Participants & Extra Features |
| --- | --- |
| Free | 100 (60 minute limit) |
| Business Starter ($6/user/month) | 100 (no call duration limit) |
| Business Standard ($12/user/month) | 150 (video recording) |
| Business Plus ($18/user/month) | 500 (video recording, attendance tracking) |
| Enterprise (custom pricing) | 500 (video recording, attendance tracking, noise cancellation, in-domain live streaming) |
With Microsoft Teams you'll be able to host 300 participants, even in the least expensive tiers of their business plans ($4/user/month). For many mid to large-sized companies this may be a distinct advantage and give Teams the edge over Google Meet.
Microsoft Teams is Better for Live Events
Another option to look at is the live event ability of both apps. Microsoft Teams has the option of creating a webinar or live events so that your company can host events.
If you choose the Enterprise tier of Google Meet, you will get a live stream option there, too. Pricing for that plan is not listed publicly, so you'll have to contact them to understand how expensive that will be for your organization.
Both Apps Offer Breakout Rooms
Both video meeting apps offer breakout rooms. However, Microsoft Teams includes it in its free version as well, while Google Meet only provides it for its paid versions.
Breakout rooms are great for meetings when you want your teams to break into smaller groups before coming back to the main call to discuss different aspects of the business.
One of the great shortcomings of holding virtual meetings can be the inability to have some quick side-discussions and group brainstorming, so for many organizations this will be an important feature to have.
Both Meet and Teams offer it, but I love that it's included for free with Microsoft Teams, even in their unpaid version.
Try the Free Versions of Microsoft Teams and Google Meets
I'm a huge fan of taking advantage of free trials and freemium app trials. It's probably the best way to understand the call quality, features, and usability of a video calling app.
The reality is that both Microsoft Teams and Google Meets are powerful tools for communication. If you want to choose between the two, it would be advisable to try out their free versions first and see what you and your team thinks.
Host a meeting on both apps to figure out what is more reliable for you and which of the applications suits your company more. There might be a clear winner and it could save you a lot of see-sawing.
If you like both equally, spend time comparing the price and the additional features that each provides. You should also look at what your company is already using in terms of productivity apps. If you're operating in the Microsoft 365 ecosystem, Microsoft Teams makes more sense. If you're a Google Workspace subscriber, Google Meet is probably best.
If you're a startup trying to choose which way to go, I'd probably steer you toward Google Workspace. They were built for the cloud, and while Microsoft has done a nice job of updating all of their familiar desktop apps to work in an online, collaborative world, my personal opinion is that Google Workspace is just a bit more user-friendly for a young, modern workforce.
My opinion – your mileage may vary.

Comparing Google Meet vs Microsoft Teams Features
I've put together this Microsoft Teams vs Google Teams features comparison chart to make it easier for you to choose.
MICROSOFT TEAMS
GOOGLE MEET

APP FEATURES


Video Conferencing, Workspace, Channels for creating groups within the organization for certain projects apart from the main channel, Screen sharing capabilities, Scheduling and calendar, Recording of meetings, Security, Additional Microsoft Apps to support productivity
Features to facilitate live events

APP FEATURES


Video Conferencing, Can connect with Gmail, Screen sharing capabilities, Recording meetings, Security, Collaboration features such as connecting meetings with the calendar for reminders and email

STORAGE


10GB for free version
1TB in addition to 10GB per user for every licensed user

STORAGE


15GB for free version
100 GB per user for Google Workspace Essentials
Unlimited for Google Workspace Enterprise

AVAILABILITY


PC, MacOS, iOS, Android, Web

AVAILABILITY


Web app, easily available on Google Chrome for both PC and MacOS, Android, iOS

FREE VERSION


Available with limited access. The free version is limited to 100 participants each call, and only 1 hour of talk time (30 minutes for 1-on-1 calls. There is no recording option for free.

FREE VERSION


Available with limited access. The free version of Google Meet includes 1 hour of talk time and a 100 participants maximum. 1-on-1 calls can have 60 minute meetings.

PAID PLANS


– Microsoft Teams Essentials at $4.00 for every user every month with an annual commitment
– Microsoft 365 Business Basic at $6.00 for each user every month with an annual commitment
– Microsoft 365 Business Standard at $12.50 for each user every month with an annual commitment
– Microsoft 365 E3 at $35.00 for each user every month with an annual commitment

PAID PLANS


– Google Workspace Individual at $8 for every active user every month
– Google Workspace Business Starter at $6 for every active user every month
– Google Workspace Business Standard at $12 for every active user every month
– Google Workspace Business Plus at $18 for every active user every month
– Google Workspace Enterprise (custom pricing)

USER EXPERIENCE


User-friendly, with a slight learning curve on understanding channels. You can add a lot of other extensions to increase productivity with Teams. Additionally, self-help guides are available online.

USER EXPERIENCE


User-friendly and intuitive to use their video conferencing tool. There's a reliable guide available online for user reference, and you can visit forums that help users communicate as a community.

RELIABILITY & SUPPORT


– No support for free tier
– Paid versions cover financially-backed uptime
– 24-hour availability for phone and web support
– Additional support is provided for Office 365 E3

RELIABILITY & SUPPORT


– No 24/7 support for free tier
– 24/7 support available for paid version
– Added priority for Google Workspace Enterprise plan
– Enterprise plan includes a Designated Google Advisor
– Enterprise gets additional Premium Support from Google, which provides your company with a technical account manager (at extra cost)

SECURITY


Microsoft provides security through data encryption for all versions, with additional security protocols in terms of multi-factor authentication and auditing and reporting available for the paid versions.

SECURITY


All versions offer two-step verification, data encryption, and anti-abuse features. Google Workspace Enterprise plan has added benefits and advanced security, including Vault, DLP, Data Regions, and Eneterprise Management.
Final Thoughts About Choosing Between Meet and Teams
Overall, businesses (especially larger ones) tend to choose Microsoft Teams over Google Meet.
But if you have a smaller organization or want a communication app for your personal use, Google Meet is a fantastic option, and it's the one I've chosen to use for my distributed team.
You can try both apps for free, and that's what I recommend you do before you make a purchase of either video conferencing app.