Microsoft Office and Google Workspace have become two of the biggest players in productivity software. But many users avoid Microsoft Office because it's a premium service. Instead, users have been using some of Word's free alternatives. LibreOffice has become increasingly popular in recent years, especially for Writer, the suite's document creation and editing tool. Both Google Docs and LibreOffice Writer are free apps, although they have different goals for their software. So how do you compare LibreOffice vs Google Docs?
In this post, you can read about key differences between the two apps. I'll explain what both do well, where they may come up short, and help you decide which is ultimately the best fit for your use-cas.
SuiteGuides.com is reader supported. If you make a purchase after clicking a link, we may earn a commission at no additional cost to you.
Google Docs – What You Need to Know
When looking at productivity apps, it's hard to ignore Microsoft Office tools, including Microsoft Word. And out of all the companies in the world working to keep pace with Microsoft for productivity apps, Google has been the most successful.
Google Docs continues to build Google's services as a true alternative to MS Word in both corporate and home settings.
Docs sits alongside Google's other free productivity apps, which include Sheets for spreadsheets and PowerPoint counterpart Google Slides for presentations. Furthermore, you can't ignore the role of Google Drive – the encrypted and secure cloud storage solution which offers users 15GB of free storage.
This package of free apps is a robust and powerful collection few can compete with, and a good entry point to Google Workspace – Google's paid office productivity suite.

How Google Docs Stacks Up
As for Google Docs itself, it may not be quite as powerful as Microsoft Word, but Docs is an excellent word processing tool in its own right. What it lacks in software performance, it makes up for in its capacity for real-time collaboration.
If you accept that Microsoft Word is the measuring stick by which most word processing apps are evaluated, Google Docs is as close as you can get, and does some things (like real-time collaboration and sharing) better than Word.
LibreOffice Writer – What You Need to Know
LibreOffice, which split off from OpenOffice in 2010, is another free option competing with Microsoft 365. It is an open-source platform from The Document Foundation, aimed at being a non-profit solution in the productivity space.
The wider LibreOffice suite includes Calc for spreadsheets and Impress for presentations.
What made LibreOffice an instant success was its clear quality. Developers were wise and understood the power and popularity of Microsoft Office. As such, LibreOffice apps look remarkably like the familiar MS Office products many of us grew up with.
For Linux users, LibreOffice has been a staple, allowing them to access highly functional productivity tools with no compromise.
Of course, all productivity tools borrow something from Office, which is why even Google Docs looks a little bit like Word.
That said, LibreOffice took that inspiration from Microsoft Word to a new level. Its Writer app has a similar design as older versions of Microsoft Office.
Features and Tools Comparison (Writer edges Docs)
Google has been closing the gap in Docs capability compared to Word. A few years ago, Google Docs was lagging in what it could do, but Google has been consistently improving what Docs offers. While these days, the word processing app is feature-rich, it is not quite as robust as Microsoft Word in certain areas that matter to some power users. But for 95% of users, Docs still delivers more tools than the average user would ever need.
LibreOffice is also less capable than Microsoft Word. But its performance is closer because much of OpenOffice's success was built on copying Microsoft's app. Because of this, users of LibreOffice Writer get a long list of features and abilities. LibreOffice also taps more seamlessly into Microsoft Office apps, something Google Docs does not do well.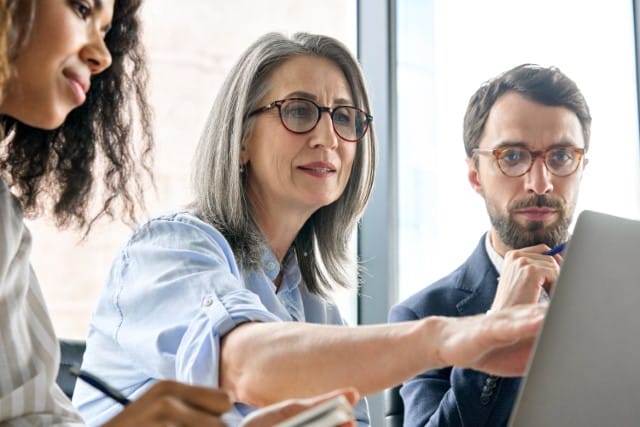 Many organizations leverage some or all of Microsoft's suite, so having good integration with Office is important. On this point both LibreOffice and Google Docs do well by playing nice with Microsoft's apps. In so doing, they allow businesses to work more efficiently across services.
Writer has the more clearly defined word processing features. However, Google Docs has one ace up its sleeve. Specifically, all Google account users get 15GB of free cloud storage on Google Drive, and if you're a Google Workspace customer, then your Google Sheets, Docs, and even your Gmail messages don't count toward your Google cloud storage limits.
Collaboration (Google wins with ease)
LibreOffice has been evolving in recent years to adapt to the concept of collaboration. However, the suite is still lagging behind in terms of facilitating shared work.
That's arguably the biggest problem LibreOffice has when put up against Google Docs – an app built for the cloud with collaboration front-of-mind.
This key difference is very likely a deal breaker for many organizations. This is especially true in today's work environment where remote work plays such a large role in the daily lives of professional teams. Online collaboration tools are so important.
Google Docs is much better as a collaboration tool. In fact, Google Workspace as a whole is perhaps the best collaboration productivity package available, surpassing Microsoft Office in my view (I'm a happy customer). That's because Google Workspace and Docs were built with connectivity in mind, making collaboration seamless.
Google Docs can also do things LibreOffice Writer cannot.
For example, by tapping directly into Google Drive, Docs is a complete collaboration tool. While having 15GB of free cloud storage is a nice perk, the true power of Drive integration with Docs comes from its capabilities as a file sharing service.
Users can easily share documents with other Drive users or send direct links via email from right in the app. Collaboration capabilities include real-time in-sync editing, sharing, and commenting in documents. And with version history and automatic back-up, you don't have to worry about projects getting ruined if folks make edits you dislike.
One of the glaring gaps in the feature set of LibreOffice is it does not provide this level of collaboration. In fact, you can forget about any kind of file sharing tools or collaboration capabilities. That means Writer is far more of a locked in experience.

Integrations (It's actually a tie)
Both LibreOffice Writer and Google Docs do a great job at tapping into other third-party tools. For Writer, the fact LibreOffice is open source means it has support across a dizzying amount of third-party services, probably more than Google can compete with. Yes, this integration extends to Writer supporting Google apps.
That said, Google Docs can also access a wide range of third-party tools. There's no doubt that Google has built an excellent app ecosystem across its Android and Chrome services. While all apps in the Google Play Store won't work with Docs, many business-oriented tools will. Furthermore, Docs obviously works more seamlessly with Google's other apps.
If Docs is wonderful for working with Gmail, Drive, Google Maps, and Search, it works with Microsoft Office tools and apps begrudgingly. Google and Microsoft are major competitors for market share in this space. It's easy to work on MS Word docs in Google Docs, but only out of necessity.
LibreOffice Writer is much more connected to Microsoft's suite, which may be an important distinction for some organizations.
Cloud Tools (Google Docs…and it isn't close)
In recent years, LibreOffice has been doing more to make Writer an ideal cloud companion. However, Google reigns supreme in this area.
LibreOffice Writer is an offline (desktop) tool trying to play nice with the cloud. Google Docs is a cloud-first service built from the ground up with always-on connectivity in mind.
Perhaps the biggest benefit of that ethos is its connection with Drive. Google constantly backs up your work in Docs, meaning you never have to actively save your content. Anyone who has ever lost their work unexpectedly will appreciate this feature.
LibreOffice is doing more to get better at protecting against accidental deletion, but nothing compares to Docs here (even Microsoft Word). Moreover, Google's service will also retain past versions with their robust and helpful version history feature…so you can easily look at your document across a timeline of its creation.
Offline Use (LibreOffice Writer has the edge)
As noted above, Google Docs is built as a cloud-first tool. Google does allow some offline work, but it requires an extension and offline functionality has limitations.
LibreOffice Writer, on the other hand, excels as an offline tool. In fact, it is where the app becomes incredibly useful and, frankly, this should be its main purpose for users.
Google Docs vs LibreOffice: Which Is Best?
For my money (and since both apps are free to use, the stakes are low), Google Docs is my preference and what I'll steer more readers toward.
That said, it's difficult to decide which is best between LibreOffice vs Google Docs because the answer so heavily depends on your individual needs as a user.
If you're a student always working offline or use Linux, LibreOffice Writer is probably the best choice.
If you're deep into cloud integration and value collaboration, Google Docs is the clear winner.
These days businesses are increasingly seeking flexible solutions and have put huge value on collaboration. With that in mind, it's hard to ignore that Google Docs checks more boxes than LibreOffice Writer.
And with the upgraded experience of Google Workspace available if you choose to sign up, working in Google Docs may be the best long-term option.