Microsoft 365 is arguably the most popular software suite on the planet. It's a staple in homes and small businesses, fostering an ecosystem of collaboration and creativity. But if you're here, you are probably wondering whether you should get the Personal subscription or the Family one, instead. Keep reading to find my complete Microsoft 365 Personal vs Family comparison. I've tried both plans and I know what they have to offer.
The Microsoft 365 Personal plan only allows one user. The Microsoft 365 Family plan, on the other hand, allows six. Other differences between the Microsoft 365 Personal and Family plans are the extra security and additional 5TB of storage included with the family license. The Personal MS 365 license is still a great choice for individual use, but if you want other people in your household to be able to use your Microsoft 365 subscription, the Family plan is probably your best choice.
Making an informed choice can save you a lot of money and time. Understanding what each plan offers and how you can apply it to your specific needs is critical in deciding which is best for you.
In today's article I'll dig in and share the most relevant details, giving you an easy-to-read Microsoft 365 Personal vs Family Plan comparison. Let's get started!
SuiteGuides.com is reader supported. If you make a purchase after clicking a link, we may earn a commission at no additional cost to you.
What Is Microsoft 365?
Microsoft 365 is a cloud-based service that includes access to some of the most popular software tools in the world, such as Word, PowerPoint, and Excel.
You can also use Microsoft 365 to create and manage your emails, calendars, and contacts. You can use the included tools in a variety of ways.
While you may associate Microsoft's Office Suite with business use, you can use the applications in this suite for both work and personal tasks.
What Can You Do With A Microsoft 365 Subscription?
In your personal and family life, the applications of the Microsoft 365 tools are almost endless. Microsoft 365 has applications you can use for managing your household and personal life.
Microsoft Word is the most popular application and the one that people are most familiar with. It's a word-processing application that allows you to create documents for work, school, or personal use.
Here are some of the most popular ways that you can use Microsoft 365.
Email and Calendar
Outlook is the email application that's included in Microsoft 365. It's a great way to manage your email, calendar, and contacts all in one place.
You can also use Outlook to schedule appointments and events, set reminders, and stay on top of your tasks.
Content Creation
In addition to Microsoft Word, the suite also includes PowerPoint and Excel.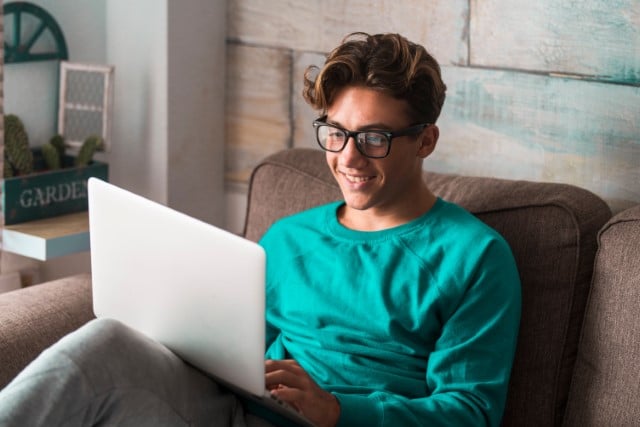 You can use PowerPoint to create presentations for work, school, or personal use.
Excel is a spreadsheet application that's perfect for managing finances, tracking data, and much more.
Communication and Collaboration
One of the most popular features of Microsoft 365 is Microsoft Teams. It's a great way to stay in touch with family, friends, and colleagues.
You can use it to make video calls, share your screen, and collaborate on projects.
Storage and File Management
OneDrive is the cloud storage service that's included with Microsoft 365. It gives you access to your files from anywhere, and you can also use it to share files with others.
Security and Protection
Another important feature of Microsoft 365 is the security and protection that's included. You'll get access to features like malware protection and data loss prevention with a subscription.
Considering the possible ways you can apply Microsoft 365 to your life, a personal license or a family subscription can be extremely beneficial. It can help you stay organized, be more productive, and keep your files safe and secure.
Microsoft 365 Pricing Structure
The pricing for Microsoft 365 aims to provide maximum value to the user. When you buy a Personal or Family subscription to Microsoft 365, you can pay either monthly or yearly.
Paying on an annual basis can save you money, but it is a large lump sum upfront, which is why some people prefer going with a month-to-month license.
Microsoft 365 allows up to six users on the Family plan. If you have a larger household, this could be the best option for you.
Choosing to pay yearly can make the pricing difference between the Personal and Family plans seem a little bigger. However, if you choose to pay monthly, the difference won't stack up as quickly.
Over the years, the pricing structure has changed repeatedly, making it difficult to keep track of. Understanding how to get the best value for your situation is very important, especially in a home setting.
Pricing Comparison: Microsoft 365 Personal vs Family
With either plan, you get full access to all of Microsoft's apps across all devices, as well as secure cloud storage. You can choose to pay yearly or monthly for a home subscription to Microsoft 365, and if you pay for the year up-front you'll save between $10 and $20 per year (exact amount is listed below).
Both the Microsoft 365 Personal and Family license offer a 30-day free trial, which is great if you want to test out the features before you commit.
Here is the pricing for each plan:
On a monthly plan you'll pay $83.88 over the course of a year (you'll save $13.89 per year by paying for each year up-front).
On a monthly plan you'll pay $119.88 over the course of a year (you'll save $19.89 per year by paying for each year up-front).
If you want the best deal for either plan pay up-front for the year.
Difference Between Microsoft 365 Personal and Family
When it comes to features, there is minimal difference between the Personal and Family plans. Both plans give you full access to Microsoft's suite of apps, as well as the ability to access them from any device.
The main difference lies in the number of users that can be signed in at any one time. With the personal plan, only one user can be signed in and actively using Microsoft 365 at home at a time.
This can be practical in many situations, but it can also be frustrating if people want to use different features or work on different projects simultaneously.
For households with multiple users the Family plan is a better option. Dad can be working on the grocery list in his Word mobile app, mom can be working out next month's budget in Excel on her tablet, and the kids can be working on their homework at the kitchen table or in their rooms on their laptops.
The Microsoft 365 family license also offers 1TB of storage for each user, totaling 6TB total.
On top of the extra storage, the Family plan offers family safety features, to make sure that everyone in your household is protected online.
For families with only one person who uses the platform a majority of the time, upgrading may not be necessary, but if you have a family and want everyone to be able to use your Microsoft license, choose the Family plan.
When is the MS 365 Personal Plan a Better Choice?
Even though it doesn't have as much storage and lacks family safety features, the Personal plan is still an incredible value and will save you 30% compared to buying the Family subscription.
If you only ever use one device to access your account, this could be your best choice.
The Personal plan can also be a good choice if none of the other family members in your home need their own account. In this case, having one person responsible for the subscription would make more sense.
The Personal plan can also be a good choice if you a child old enough to manage their own account.
When is the MS 365 Family Plan a Better Choice?
Families are slowly becoming more engaged with technology on a regular basis, which may mean you're finding that more than one person needs their own account.
If you have kids using devices for school or entertainment, the Microsoft 365 Family plan will be the best investment.
The main benefit of having a Family subscription is that each member gets their own storage allocation and login. This can come in handy when everyone in the family needs to access different features or files.
The Family plan is also a good choice if you have kids needing their own account for school purposes. This plan also offers security features to keep your kids safe online when using Microsoft tools.
Which Microsoft 365 Plan Offers Better Customer Support?
Families and individuals may find that they need support when using Microsoft products. Luckily, there is support available for both plans.
The Personal license and Family plan both offer ongoing technical support to help with any issues you may have. You can access support through the Microsoft website, where you will find a range of articles and FAQs.
If you need more help, then you can contact customer support through the website or by phone. The Family plan also comes with added support for managing your subscription and account settings.
Users also have the option to use the discussion boards to ask questions or search for answers. The discussion boards are a good way to get help from the Microsoft community, as well as other users.
How To Make The Best Choice For Your Needs
To make the right decision, you've got to know exactly what you want and need before purchasing Microsoft 365 for your home.
And mostly, this comes down to the number of household users you expect to have. More than one? Choose Microsoft 365 Family.
With the Family plan, each member gets their own storage allocation. You won't have to worry about anyone accidentally deleting or moving your files.
If you work from home, have a couple of kids needing to use the computer, or if you want to keep files separate and organized, you're going to want to choose the Family plan over the Personal one.
The Personal plan is what I recommend for a single user or people with only one child needing access to Microsoft tools.
The main benefit of having a personal subscription is that it's cheaper than the Family plan, and you still get 1TB of storage.
And of course if you simply want to use Microsoft Office apps on your shared home computer, then a one-time purchase of Microsoft Office Home & Student is probably your best bet. It's something that you won't have to re-up for annually, so a single investment will get you the Microsoft software you know and love for a single PC in your home. The downside is you're limited to one device, and you won't be able to work in the cloud.
I hope this Microsoft 365 Personal vs Family comparison has helped make your choice clear!