Slack has muscled into the competitive workplace collaboration market, but collaboration tools are secondary in this app. It's fundamentally a workplace chat and communication tool. If you need that kind of program, Slack may seem like the only game in town. But what about Discord? Keep reading to find my complete Slack vs Discord comparison and learn the differences between these two communication tools.
Discord's roots are firmly planted in the gamer and social media arena. However, some businesses find they can actually use it as a chat tool. Can it compete with Slack as a go-to for workplace communication?
Here's an overview of the topics I'll discuss here:
Text Messaging: Slack vs Discord
Structure and Organization Comparison
Comparing Voice and Video Calling
How Slack and Discord Integrations Stack Up
Pricing Comparison: Discord vs Slack
SuiteGuides.com is reader supported. If you make a purchase after clicking a link, we may earn a commission at no additional cost to you.
Text Messaging: Slack vs Discord
Slack and Discord are both great for text chatting.
In terms of their user interfaces and approaches to text chat, Slack and Discord are similar. The app's left sidebar features a channel list, making it easy to switch between contacts and teams.
The chat section occupies the main pane of the windows. This is where you can attach, files, emojis, and images.
There are differences in how Slack and Discord organize chats.
Slack stands out in one area: it provides a tool for selecting a message from one conversation and creating a separate thread from it. This is a fantastic way to manage feeds if discussions are breaking off into tangents that are tricky to organize.
This feature also helps to turn Slack conversations into mini-task management tools, allowing you to create separate feeds as you delegate tasks in the main conversation.
RELATED: Slack vs Trello Comparison
Difference Between Slack and Discord (organization)
While these apps have some similarities, there are differences in structure and organization.
Slack Teams Have Individual Workspaces
In Slack, each team you have is hosted in a different workspace. Each workspace has its own name and individual login details.
That means you need to log into each different workspace to access channels within it. Yes, that seems frustrating and is probably a step we would like to see removed.
That said, once you have logged into all teams, it's easy enough to switch between them without logging in again. Still, if you have a large group of teams across your organization, it can be easy to lose track of all those essentially separate accounts.
Discord Has Just One Log-In for All Your Teams
Discord removes this problem, allowing you to have one login for all your teams. Once logged in you can switch between teams to access channels within them.
It's certainly a more efficient way of handling separate team feeds, but there is one potential problem.
If your account is compromised in some way, a threat actor would have immediate access to all your teams. On Slack, only one team would be compromised.
Voice and Video Calling: Slack vs Discord
Slack and Discord's video and voice calling facilities simply cannot compete with the likes of Microsoft Teams, Zoom, and Google Meet.
Still, both services do offer the ability to send and receive both video and voice calls, even if the feature is not the core of the experience.
Voice and video calling is the area with the biggest differences between Slack and Discord.
Voice and Video Calling in Discord
Discord keeps voice conversations separate. Making a voice call involves clicking on a channel to start the interaction.
You can choose to speak with between one and 99 people within the channel. Calls happen in the background and there is no difference in the layout of the app.
In fact, Discord is a little too discreet in telling you when you're on a call, with just a little icon in the bottom corner confirming the connection. It's a little bit too easy to make an accidental call and not know you are connected.
However, the app does add some slick voice call features such as Push-to-Talk, which is a walkie-talkie-style tool that means your voice is only heard if your press a button.
This is a useful ability if you're on a call with multiple participants.
Voice and Video Calling in Slack
Slack takes a more direct approach, baking voice and video calls directly into conversation feeds. This is more intuitive because it means you can do all forms of communication from the same place.
When you want to make a call, simply click the voice or video message and wait for your recipient(s) to confirm.
RELATED: Slack vs Microsoft Teams Comparison
Integrations: Slack vs Discord
Both Slack and Discord offer a wide range of integrations with some of the biggest third-party developers. Because of the different customer bases of the two apps, those integrations or bots have differences.
In terms of Discord, its position as a chat app for gamers means you get integration with platforms like Steam, YouTube, Blizzard Entertainment, Twitch, and Xbox Live. Integrations are primarily oriented towards entertainment, streaming, and gaming.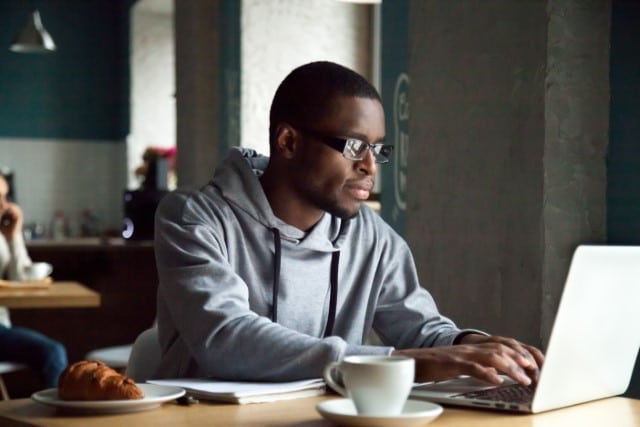 In its integrations, Discord is less appropriate than Slack for an app to use in your business.
Slack is in another league and provides over 2,000 integrations to customers. It's worth remembering you can only use 10 of these in the free version of the app.
Still, you will find just about every major enterprise name here, including Dropbox, Google apps, Microsoft Office, Zoom, Microsoft Teams, and many more.
Pricing Comparison: Discord vs Slack
Slack is widely praised for having one of the best free tiers of any enterprise app. The free version of Slack provides unlimited 1:1 voice and video calls, 10,000 messages, and 10 integrations.
It's enough for many small businesses and teams, and if you need more you can upgrade to a paid plan. Those subscriptions start at $6.67 per user per month and provide unlimited messages, recording, and other perks such as 15 people in a video call.
It may come as a surprise, but Discord's free tier is even better than Slack's, offering fewer limitations. In fact, you get just about the totality of core functionality with few compromises.
When you're a free Discord user you get unlimited message history, unlimited server storage, eight users in a video call, 5,000 online concurrent users, and screen sharing.
Because Discord caters to a different market (gamers and streamers), this free package suits those customers more. However, even in a business setting, Discord's free package offers more than Slack.
If you want to upgrade Discord, plans add more customization options, such as custom tags and avatar animations. You'll also get a greater file upload limit, increasing from 8MB to 50MB.
A major difference between Discord and Slack pricing is that with Discord, you don't pay per user. Instead, individual users are given the choice of whether they want to sign up or not.
This is a downside for most businesses. After all, it would get confusing for your team members.
Should You Choose Slack or Discord?
If you want a communication and collaboration app for entertainment or gaming, Discord is the clear winner. But if you have a business, maybe you assume that Slack always comes out on top.
Whether or not that is true depends on your business and its needs. These days Slack has a number of alternatives and competitors.
Discord's features and pricing make it an increasingly viable alternative to Slack for some businesses. But for most enterprises, it's not quite there yet and Slack will be the preferred choice due to its robust list of enterprise-focused integrations.
So, if you're looking for a workplace communication app for your business, I'd recommend Slack overall. However, if Discord addresses some of its shortcomings in the coming years, it'll give Slack more of a run for its money!