Trello is the market leader when it comes to task management applications. This app certainly fits the bill if you're looking for general task management for a small team and easy-to-set scheduling. However, Trello does have its limitations and if you're reading this article, chances are you're seeking an alternative. Keep reading to learn about the best Trello competitors and alternatives available today.
I used Trello for years in my role as a marketing manager at an international travel company, and even relied on it for a time when I transitioned into a work-from-home role starting my own business. But Trello isn't necessarily geared toward enterprise-grade project management, and I learned that first-hand.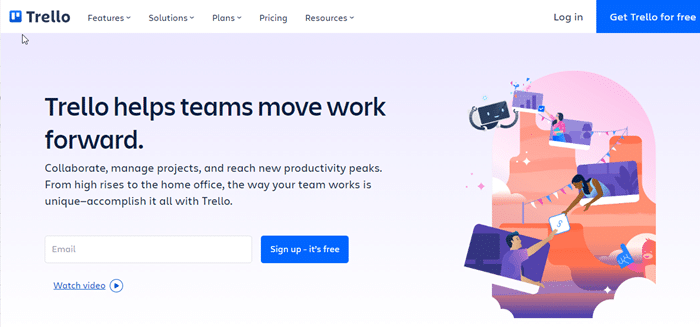 SuiteGuides.com is reader supported. If you make a purchase after clicking a link, we may earn a commission at no additional cost to you.
For example, it doesn't tend to play well with large multi-faceted projects.
In this article, I'll discuss five of the best Trello alternatives and top competitors which may work better for you than Trello can. These are:
Of course there are other project management tools worth considering as well. These are:
But for now let's dive into these five Trello alternatives that you should consider for your team.
1. Asana
Asana is an obvious alternative to Trello and has become its main competitor. It's an advanced application designed for work tracking, management, and organization.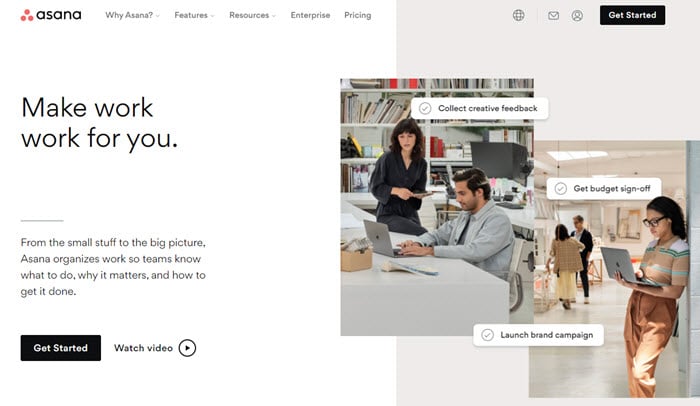 As enterprise-grade project management software, Asana offers everything Trello does and much more. Flexibility and functionality are watchwords with Asana.
Task Coordination
Asana is a complete task and project management tool. It's an excellent app if you want to coordinate tasks across a team and collaborate with ease.
Like Trello, you can assign tasks, conduct chats, and leave notes in one location. Asana also excels when you want to view the progress of tasks, something Trello generally lacks.
Integrated Attachments
Other abilities include integrated attachments, task interactions, calendars, and notifications that tell you when changes are made to a project, such as when a project is completed.
Asana boasts hundreds of integrations that take it far beyond what you experience with Trello. Third-party integrations usually make or break a task-management app.
Fortunately, Asana has plenty, including chat tools, cloud storage solutions, and more.
User-Friendly Interface
Another Asana perk is its clean user interface and slick navigation. This makes it easy to onboard new team members without worrying about a steep learning curve.
File Storage
The app supports files up to 100MB in size. Asana doesn't impose a storage limit even though it hosts in the cloud.
View Options
Another cool aspect of Asana is its variety of view options, including Kanban (like Trello), lists, calendar view, or file view.
Asana Pricing
In terms of pricing and what you can expect to pay for Asana, this collaborative solution is free for 15 users or fewer, and this free version offers unlimited tasks and conversations.
The Pro version costs $10.99 per month (per user). The Business tier is the most feature-rich option, and it costs $24.99 per month (per user). You can take the pro or business tier for a spin and enjoy a 30-day free trial by clicking here.
2. ProofHub
ProofHub has proven to be an interesting alternative to Trello. It provides Gantt chart views that make it easier to visualize your project and its timeline. ProofHub includes calendar and list view options, too.
ProofHub has all the features you would expect when it comes to project management, including the ability to add tasks, comment on them, assign them to individuals, and prioritize them. You'll also find @mention, file support, and data management capabilities.
Time Tracking
Another interesting addition is the ability to track the time spent on individual tasks. ProofHub as some unique tools that Trello lacks, such as customized access levels and customized roles for teams.
Workload Reports
You can also tap into workload reports that allow you to see how specific tasks and projects are progressing. A long list of third-party integrations allows you to expand the capabilities of ProofHub further.
Impressive Integrations
One of the benefits of ProofHub is how many tools it rolls up into a single service. There's a reason this app is used by giants such as Disney and Netflix.
Trello users will be familiar with managing tasks on the app but need to use a separate app for chat, such as Slack. On ProofHub that inconvenience is not present because of the deep features and integrations it offers.
Includes Chat Functionality
Specifically, ProofHub holds its own chat facility, meaning you can keep all interactions and project management within a single app. Elsewhere, the service offers a far more dynamic interface for viewing tasks.
ProofHub Pricing
It is worth noting ProofHub does not have a free version, so you'll need to pay $45 per month for the Essential Plan or $89 per month for Ultimate Control.
One of my favorite features of ProofHub is how it doesn't do per-user pricing. We all know how much that can add up! The $45 or $89 per month you pay for ProofHub covers all users on your team.
3. Jira
When it comes to software teams, Jira is the best alternative to Trello for project management. If you have a software business, you may find it's a great project management option.
Geared to Software Businesses
It is not a general project management tool, but rather a software development aid that allows developers to create, plan, track, and roll out software.
Thanks to automatic reports, it's possible to track progress through timelines.
Like regular task management apps, software developers can use Jira to distribute tasks and manage multiple projects on an individual basis. Reports are issued in real-time, giving you more control over what team members are working on.
These reports allow you to create more productivity by delegating in a fluid manner during a project.
Thousands of Integrations
Because Jira works with thousands of integrated add-ons, you can expand the power of the app further across mobile and desktop.
Jira Pricing
There is a free tier of Jira available if you have a small team of up to 10 users. If you have a large organization, this isn't going to be an option for you.
If you go with the Standard plan, it has a monthly subscription fee of $7.50 per user. For the Premium plan, you'll pay a monthly fee of $14.50 per user.
4. Workzone
Workzone successfully straddles the line between a "for-everyone" tool like Trello and the enterprise-grade features and price of a service like ProofHub.
Its features ensure your team and documents stay safe in the cloud. Workzone is equally effective for macro-level overviews and tiny details.
Exceptionally User Friendly
One of Workzone's most popular features is its user-friendliness. This application streamlines productivity by simplifying task and project management.
If you crave efficiency and ease of use but don't want to compromise on features, Workzone may be for you.
Easy to Personalize
Workzone lets you easily organize tasks and projects into personalized to-do lists and dedicated dashboards. If you'd like, you can provide access to specific users or across an organization.
Those individual to-do lists are particularly useful because they allow you to delegate specific work to specific participants.
When it comes to integrations, Workzone taps into an array of third-party tools including Dropbox, Slack, Google apps, and Microsoft Office.
Workzone Pricing
Workzone is a bit more on the expensive side. For a team of 15 people, the lowest price plan has a monthly fee of $24 per user. However, if you have a large team, you may be eligible for volume discounts.
5. Avaza
Avaza takes the idea of project management and expands it to encompass more organizational tasks. It even includes a complex accounting tool that you can use outside of the task management space.
With regard to project management, you get all the features you need, including timesheets, email chat and notifications, task completion rate information, time spent on tasks, and designation. Avaza has great versatility, providing you with Kanban, Gantt, and list view options.
Accounting Tool
Avaza provides an accounting tool that is especially useful for small enterprises and freelancers. It allows you to create expense reports, custom invoices, and quotations.
You can also share directly with customers, showing them the relevant project and related reports. You can even authorize them to make changes.
Financial Transaction Functionality
The app also taps into payment methods like credit cards and PayPal to allow for seamless transactions upon project completion.
Avaza Pricing
Avaza has a free tier but it's limited to just ten users, five invoices, five projects, and 100MB of storage per month. If you need more than that, there are several paid tiers to choose from.
Choosing Between the Best Trello Competitors
Now that you know the best Trello alternatives, you're in a much better position to choose the best one for your business.
For all its strengths, Trello does have its shortcomings, especially for larger businesses, and I recommend that you take advantage of the free trial offered by each of the project management solutions I've shared here today.
Free trials are a great tool to discover which apps and tools will work best for you – just be sure you set a calendar reminder to cancel unwanted subscriptions before you're charged.