Finding it difficult to choose between Trello and Monday.com for your company's project management and collaboration system? You're not alone. In this article, I'll walk you through a comprehensive Trello vs Monday comparison.
Comparing Trello vs Monday
I'll explore:
The most important differences in key features that your team will actually use,
The pricing structure (and what it means for your budget),
Potential security concerns with each app, and finally
How easy each tool is to learn and use.
This is information you need when deciding which of these popular business communication and project management tools best fits your company and will support your team.
And unlike other Trello vs Monday comparisons on the web, I'll try to cut through the noise and share only the most important details to help you make your decision.
Let's get into it.
All About Trello
Let's begin with Trello – a collaboration app that many businesses and individual users find incredibly useful.
If collaboration is key to your operation, Trello could be the perfect tool for you.
Features
With Trello, you record tasks on cards and organize them in individual columns. You can then move them around as tasks are accomplished.
Trello has a multitude of features. Some of these include:
Multiple features for collaboration
Shared team calendar capabilities
Capabilities for scheduling of tasks and prioritization
Time tracking functionalities for organizations
Easy to learn and create a simple onboarding process
Many digital collaboration tools
Ability of all members of the team and management to see all relevant information about which people are working on which tasks throughout the organization
Search through the boards on Trello by using a Chrome extension
Wide variety of keyboard shortcuts.
The system's card colors and covers make it especially easy to keep the boards organized.
Team Directory board where you can list pictures and names of all the people on your team.
Butler is a Trello feature that lets you create automations, commands, and rules on your boards. This helps to reduce repetitive tasks.
Price
The features you will get with Trello depend on whether you go with the free option or decide to do a paid membership.
With the free plan, you still get lots of useful features and it is a fantastic choice if you prefer simpler systems. You will get a Kanban board and lots of sorting and scheduling options. You get so much with the free level, in fact, that you could even use it for fully running a small organization.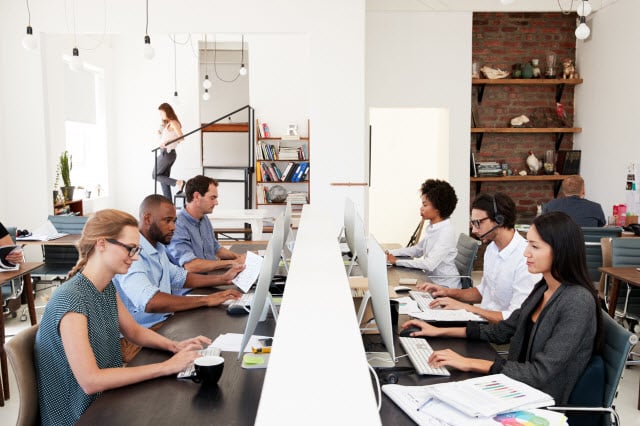 There are three pricing levels for Trello. This includes a free option (one of its perks), a business option, and an enterprise option.
Free option: With the free version of Trello, you get 10 team boards and 50 automated commands per month.
Business option: The business-level subscription option for Trello costs $9.99 per user per month. It includes 1,000 automated commands per month, as well as priority support and advanced administrative options.
Enterprise option: The enterprise-level subscription includes everything you get with the business option, with the additions of personalized onboarding and unlimited automated commands. The cost of this subscription starts at $20.83 per user per month.
Security
Trello uses Transport Layer Security (TLS) to secure the connection using 128-bit Advanced Encryption Standard (AES) encryption. All data transmitted between the web, iOS, desktop, and Android apps and Trello's servers is encrypted with this method.
Connections are made in a secure way over HTTPS. With Trello attachments, encryption keys are stored in S3 and are managed by Amazon. The processes for encryption, decryption, and key management are internally inspected and verified by Amazon regularly as part of the auditing process.
If a Trello account is ever deleted, the user's personal data (such as email address, location, and name) are deleted within 30 days of account deletion. Once 30 days have passed, the personal data will stay encrypted in Trello database backups. This is the case until the backups cease to be in the 90-day retention window. After that, they are destroyed.
When an individual account is deleted, there isn't automatic deletion of the content that was generated by individual Trello users.
Ease of Use
Trello is easy to use and includes useful tutorials for beginners. It has an excellent user interface and promotes efficient and simple workflows.
Many people feel that Trello is easier to use than Monday.com. This is especially true if you are already familiar with Kanban boards.
Customer Support
When you need support with Trello, you will need to submit a support ticket. Most problems and questions are resolved this way. If you have a business-level or enterprise-level plan, you will enjoy priority phone support.
All About Monday.com
Monday.com is wonderfully intuitive and known for its user-friendly design.
This makes it easy to get new team members started on their work quickly. After all, very little to no platform training will be needed.
Features
Monday has many different useful features. Let's take a look at a few of them below:
Shared calendars for your team
Time tracking functionality
You can schedule tasks and do detailed prioritization
Dashboards for your team and budgeting features
SSO and mobile app
Excellent document storage
Your team can work on documents collaboratively
An inviting and attractive user interface that is easy to use once you have learned it
An intuitive task management system
The system's dashboard is easy to customize
You can choose from more than 200 templates for your board
There are more than 30 column types for customizing workflow
Real-time synching of items, sub-items, and groups
Monday is just as effective on mobile devices as it is on desktops
Price
The specific features you will get depend on which level of plan you choose.
Monday.com has a rather complex pricing structure.
Monday.com Basic Pricing
With the Basic plan, you pay per user. The fee per user is $10 per month and you will need a minimum of three users. So, the minimum amount you will pay per month is $30. If you want to pay annually instead of monthly, there is a 20 percent discount (so it works out to be $24/month if paid annually).
Monday.com Standard Pricing
With the Standard plan, the monthly fee is $12 per user, and you need a minimum of three users (so $36/month minimum). You get more features than you do with the Basic plan, and if you opt to pay yearly instead of monthly, you can save 17 percent overall (effectively $29.88/month if paid annually).
Monday.com Pro Pricing
If you go with the Pro plan, you will pay a monthly fee of $20 per user and you will need three users minimum (so it costs at least $60/month for Monday.com Pro). The Pro plan comes with Advanced features (instead of just the Expanded features you get with the Standard plan). If you choose to pay annually instead of monthly, you can save 20 percent overall (bringing the per-month minimum cost to $48 if paid annually).
Security
Monday.com successfully manage the data of at least 100,000 organizations all over the globe. This service uses the highest standards to protect customer data and keep it secure. Monday.com uses industry best practices and international standards, including ISO 27001, OWASP Top 10, and ISO 27018.
Monday's systems have hosting in multiple different Available Zones found at Amazon Web Services. The system's data centers use the best environmental and physical security measures, meaning that it has a strong infrastructure. Monday's security design has a number of different layers. The application layer has been designed in accordance with the OWASP Top 10 framework.
Monday.com has a controlled CI/CD process that includes end-to-end testing, static code analysis, vulnerability assessment, and unit testing that relates to authorization aspects and other factors.
Ease of Use
Monday.com is intuitive and takes a very visual approach. It's known for being extraordinarily easy and requires little to no training during onboarding. It is Monday's user interface that makes it so welcoming.
While Monday.com has a lot of visual appeal, it can be a bit cluttered for some people. This is why you might find it harder to learn when comparing Trello vs Monday.
Monday.com doesn't offer a free plan like Trello does, but only a free trial. Many people don't find 14 days enough time to decide whether Monday.com is right for them.
You will have to use a beginner's tutorial before you can start using Monday.com. You won't be able to understand it otherwise. In general, the main base of your work will be a main table. You will then be able to apply specific views on this.
Customer Support
You can solve many issues and answer questions by checking the community forums, webinars, and FAQ sections provided at Monday.com. If you are an enterprise customer, you will enjoy concierge support.
So Which Is the Best Overall: Trello vs Monday?
Many users agree that Monday is the best when it comes to project management.
However, Trello is an incredibly strong task management system and there are some circumstances in which it might be the best choice for you.
As mentioned earlier, Monday.com is harder to learn than Trello and there isn't a free option.
If you're a startup on a shoestring budget, or if you simply want to dip your toes into the project management app marketplace, Trello might be the right product to choose.
There won't be a monetary commitment, and you'll be able to learn how to use it for your business before dropping some of your valuable dough on the app.
Trello or Monday May Be Better for You – It Depends on Your Needs
Just like every other decision you make for your business, priorities and personal preferences are key.
Take a close look at all the information I've curated here, comparing Trello vs Monday features, cost, security, ease of use, and customer support. This should help make your decision easier.
In fact, you've probably already made it.