The workplace communication and collaboration market is one of the most hotly contested in the enterprise tech realm. There are numerous communication apps for businesses, and it's difficult to choose the best one for your organization. Two names tend to come up a lot when looking at enterprise chat apps: Slack and Google Chat. Today, I'll bring you a Google Chat vs Slack comparison.
With this detailed guide, you can make an informed decision on which app is best for your business.
Here's an outline of what I'll discuss:
What is Slack?
What is Google Chat?
Features: Google Chat vs Slack
Search: Google Chat vs Slack
Pricing: Google Chat vs Slack
Google Chat vs Slack: Which is Best?
Now let's get into the comparison so you can find the right chat solution for your team!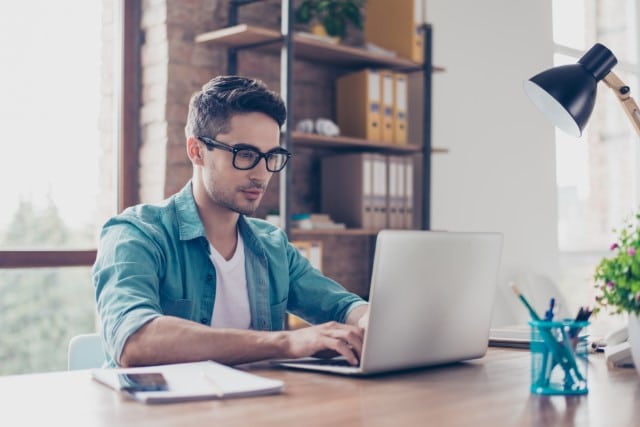 SuiteGuides.com is reader supported. If you make a purchase after clicking a link, we may earn a commission at no additional cost to you.
What Is Slack?
Slack is a popular workplace chat and collaboration app that is used by around 20 million people. It enjoyed rapid growth and drew a lot of competitors.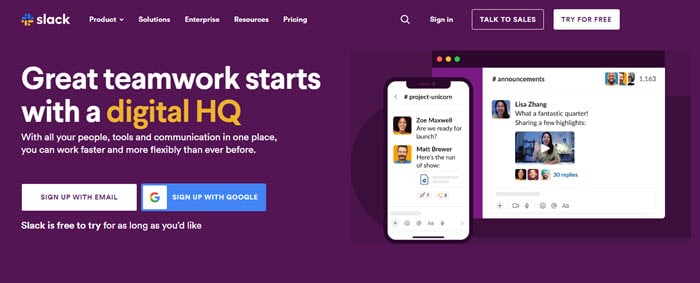 However, Slack remains arguably the most complete app for workplace communication, even if other services have surpassed it in terms of collaboration.
Thanks to a strong feature set of video calls, messages, file sharing, channels, over 2,000 integrations, and more, Slack is perfect for keeping a team connected.
What Is Google Chat?
Google Chat was once known as Google Hangouts Chat and is now Google's communication tool for the Google Workspace (formerly G Suite) platform.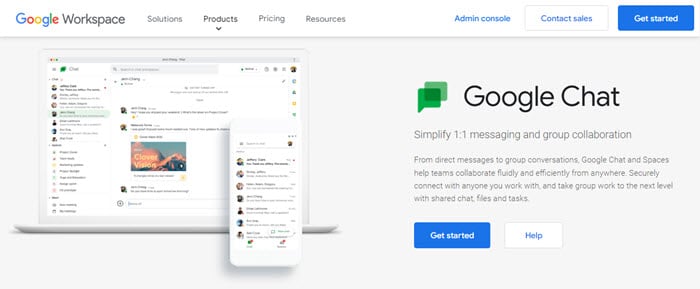 This paid chat service is far more focused on communication than it is on collaboration, but it doesn't have video conferencing tools. Still, because it is integrated into Google Workspace, it has a lot of integrations backing it up.
Workspace is a complete bundle of enterprise apps from Google, including Gmail for business, Meet (video conferencing), Drive, Docs, Sheets, Slides, and more. All of these cloud-based apps integrate seamlessly with Google Chat.
In fact, Google's functionality across apps feels more like you are using one big app rather than a collection of individual services.
Google Chat vs Slack Features Comparison
Features are what underpin the whole experience of any software, and that's the case when comparing Google Chat and Slack.
Below is an overview of features available on both apps to help you get a quick sense of which might work best for you and your organization:
| Google Chat | Slack |
| --- | --- |
| With Google Chat you can have 1:1 calls, but video calls are only available through Google Meet (via the Google Chat integration). The capacity for video meetings varies based on your Google Workspace license, but start at 100 people in a Google Meet with the least expensive license. | With Slack's free plan you can enjoy unlimited one-to-one video and voice calls. With paid plans you can conference in up to 15 people in their app. |
| Screen sharing is only available through Google Meet | Screen sharing is only available in paid plans |
| You can save an unlimited message history, or not (it's optional) | With the free plan you can save up to10,000 of the most recent messages, and you can save an unlimited number of messages with any of Slack's paid plans. |
| Complete integration with all Google Workspace apps and many third-party tools. | 10 integrations are available in Slack's freemium version. When you have a paid Slack subscription you'll enjoy 2000+ integrations. |
| Chat threads are available. | Chat threads are available. |
| Group conversations are available. | Group conversations are available. |
Video Meetings
Video conferencing is perhaps the biggest difference between Google Chat and Slack. In the purest sense, only Slack offers video calls whereas Google Chat does not.
However, with your Google Workspace subscription there is a native and direct integration between Google Chat and Google Meet. The good news is you don't need to switch between applications.
Meet is Google's video conferencing tool, providing up to 250 participants in a single meeting, depending on your plan. In the conversation box on Chat, there is a video meeting link that allows you to tap into Meet to start a video call.
That gives Google Chat an edge over Slack. Yes, Slack does not need to tap into other apps to deliver video calls, but it only allows up to 15 people in a conference.
It's far more oriented to small, informal meetings than it is towards the remote work generation that is forming. You can overcome this limitation by using a third-party integration, such as Microsoft Teams or Zoom.
RELATED: Slack vs Teams Comparison
Message History
Enterprises know how valuable access to your message history is. You sometimes need to recall a document or conversation, while having your history also helps security issues.
This essential tool flies under the radar, but it is important to have.
In Google Chat, there is no fee for keeping as many past messages as you want. Basically, everything you've ever done is kept by default, while you can also control the chat history log and opt not to have all of your conversations saved.
With a toggle, you can decide to record chat or turn the history off. It is worth noting that Google will remove all previous messages within 24 hours if you decide to turn the history off.
On Slack, the free version limits the number of messages you can save to the 10,000 most recent. That's not bad for a free offering. With paid Slack plans you can enjoy unlimited message recording, just like you get with Google Chat.
How The Two Compare from a Search Standpoint
Similar to message history, having a robust search tool within your enterprise communication app is important. If you have a file, message, or discussion you want to find, being able to locate it as quickly as possible is vital.
Efficiency is a major part of success in business, so organizations look to apps to help them streamline productivity.
When it comes to Google Chat, you're dealing with an app from the king of searching online. At a dinner party when there's an elusive bit of trivia nobody can remember, it's time to "Google it!" Nobody suggests "Let's Slack it!"
As the runaway market leader in search, you expect Google Chat to be intuitive and functional in this area. And so, it is, with the company's familiar search bar sitting prominently on the interface.
You can search across rooms or individual conversations, while doing a deeper search across all rooms and groups. Filters include links, videos, images, documents, @mentions, and other files.
Once the search surface results, you can hop directly to them through the "Go to thread" command.
Surprisingly, Slack is great here too. Search in Slack certainly has more advanced options, such as the ability to search by time stamp and/or date
You can also select specifically which channels to search through and look through documents for content.
On this point both apps are terrific, but I'll give credit to Slack just because you expect Google to be the runaway favorite here.
Slack vs Google Chat Cost Comparison
Cost can be a deciding factor when apps are so similar, like with Google Chat and Slack. Businesses need to weigh up the price of rolling out a service across their employee base.
There are some core differences between the pricing of Slack and Google Chat.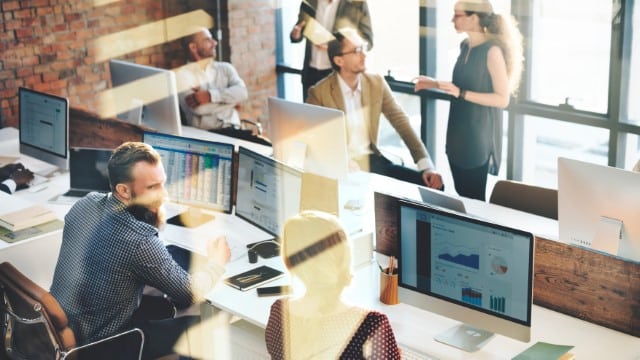 The main difference is Slack is available as a free service (with limitations) while Google Chat is not.
For small teams or freelancers, Slack is the obvious choice. The free version will fulfill most of your workplace communication and collaboration needs.
Bigger organizations will need more than what Slack offers for free, and this is where Google Chat becomes attractive. Slack starts at $6.67 per user per month for the Standard plan up to $12.50 per user per month for the Plus plans.
Google Workspace Business Starter is just $6 per user per month with the price of Google Workspace licenses rising to $18 per user per month as you add more features and toys. Google Chat is available from the $6 tier.
So, you can get Google Chat for a bit less than Slack's paid plans. However, with Google Chat you get the wealth of cloud apps, security, and collaboration tools that come with Google Workspace along with Google Chat, which I think is a huge advantage when comparing paid offerings.

So, Comparing Google Chat vs Slack, Which is Best?
After reading this article you should have a pretty clear understanding of the pros and cons of both Google Chat and Slack. So it's now time to decide which is best for your business.
The truth is (and I know this is lame) it depends on what your specific demands are. Here's my take: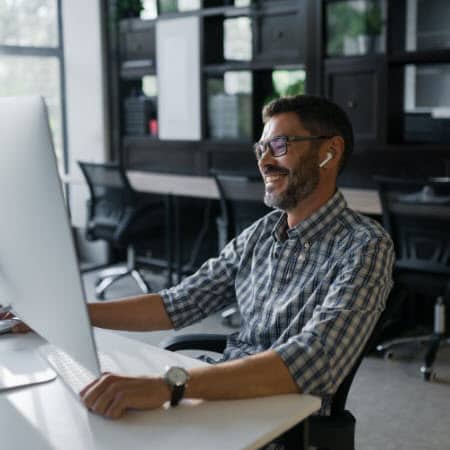 If you only want an enterprise communication tool with some solid collaboration features, Slack is hard to beat. Especially for startups and small teams that already have an office productivity suite.
If your organization requires deeper collaboration and additional tools alongside chat abilities, Slack won't work for you, and you should set up your team with Google Workspace licenses.
Personally, I use Google Workspace for my business, and I love how I have a whole set of snappy, cloud-based tools that work seamlessly together. I never have to worry about losing work if there's an issue with my hard drive, and I can seamlessly transition from working at my desk, to my laptop, and on my phone.
But what I recommend is to try out both and see which feels like the right fit. You can easily try Slack's free version to get a sense for it, and you can get a free 2 weeks of Google Workspace right here to play with Google Chat and the rest of the toys you get in Google's productivity package.