When looking for an alternative to Monday.com's project management software, you should keep a few things in mind. There are many options available, so paying close attention to the unique needs of your team, and starting with a clear understanding of how you hope your project management software will help your team function better you will make a better choice when reviewing Monday alternatives and competitors.
In my experience choosing a new software platform or tool is the easy part. It's facilitating adoption and providing training that drain company resources.
Tip: Free Trials Are Your Friend
My best advice is to take advantage of the free trials offered by many of these tools – take them for a test drive, and see which feels like the best fit for you. Consider not only your personal feeling when using this tool, but share it with your team and see which one feels like it will be easiest for your colleagues to adopt.
That's probably the one you should choose.
I've personally used all of the tools I'm going to recommend as Monday alternatives today. My first exposure was using Trello as a team Kanban board to track project workflow and productivity in a corporate job in Marketing. Today I own my own business and manage my own remote team from my home office, and use ClickUp, which works well for me now.
If you're looking for a good alternative to Monday for your project management software, here is what I recommend:
SuiteGuides.com is reader supported. If you make a purchase after clicking a link, we may earn a commission at no additional cost to you.
---
---
Although Monday has some pretty comprehensive features, the chances are that it has to fall a little short somewhere.
Here is more detail on the importance of selecting the right software and some alternatives to Monday.
What Does Monday's Software Provide?
If you have never used monday.com before, it is essential to understand what the software offers. This will help you decide if one of the alternatives listed below is a better fit for your needs before you spend your time and money on new software.
At its core, Monday is a project management tool. It helps you track your team's progression and ensure everyone is on the same page. It also includes features such as:
My Favorite Monday Features:
Gantt charts: This feature allows you to see the sequence of tasks and how they relate. This is helpful for project planning and ensuring that your team is on track.
Calendar views: This feature allows you to see your tasks in a calendar format. This can help manage your time and ensure that you are prioritizing the right tasks.
Customizable dashboards: This feature allows you to create custom dashboards for your team. This helps keep everyone on the same page and ensures they have the necessary information.
Monday is known for how easy it is to navigate and use. The software is designed for teams of all sizes and can be used for various projects. The platform uses really bright colors and offers plenty of customizable options.
Like any platform, Monday is very focused on the services they deliver, but depending on your business model, these services might not be the right choice. If you are looking for an alternative to Monday, here are some good options to keep in mind.
Project Management Software Competitors
There are many different project management software programs available, and it can be challenging to decide which of these tools is the best fit for your needs.
Depending on the size and intricacy of your team, as well as the type of projects you manage, you might find that one of these competitors is a better fit for you than Monday's software:
Asana
If you're looking for a stand-in for Monday that is just as user-friendly, Asana is a great option. Asana is designed for smaller teams and allows for more focused project management.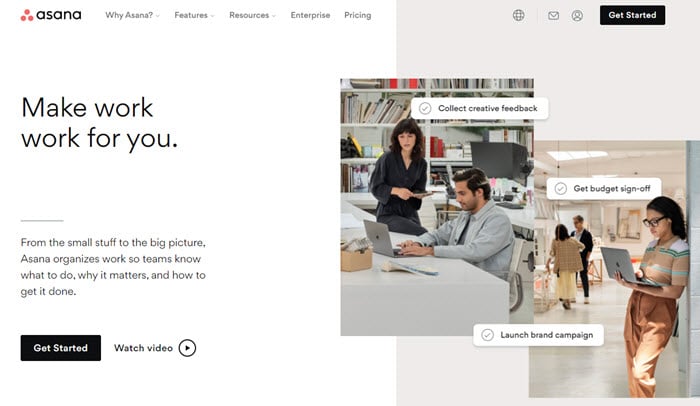 Asana ticks many boxes in integration, making it an excellent alternative to Monday. You can link your Asana account with Google Drive, Dropbox, Evernote, and around 200 more apps.
There are free trials and free plans available, and if you choose Asana, the first premium plan is valued at $10.99 and offers many more features, such as custom branding and advanced reporting. You can try it free for 30 days by clicking here.
ClickUp
The top app for integration, ClickUp, offers some features that Monday's software doesn't.
Clickup integrates with over 1,000 apps, which is around 5 times more than what Asana offers. If integration is essential to you and your team, Clickup might be the better choice.
ClickUp also offers a wide variety of features within its free plan, giving it an excellent edge over its competitors. The free plans are pretty comprehensive but the first paid plan comes in at $5 per month and offers more storage and users.
Trello
If you're tech-savvy and are looking to speed up your workflow, Trello offers some incredible features, such as a virtual assistant that can help you automate commands within your workflow.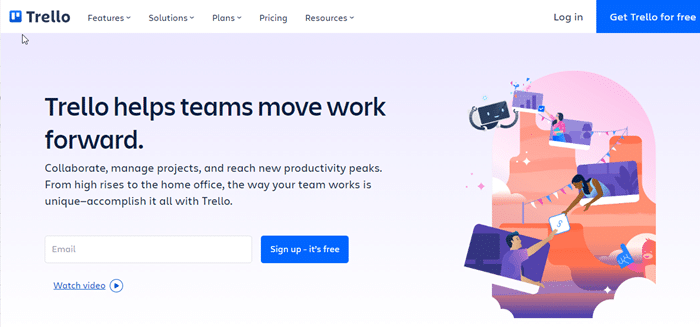 Trello has superb usability with various views for your project dashboard. However, it doesn't do as well with more extensive projects due to its limited email integration. This is one of the only downsides to the app, as it offers some excellent value for money.
Trello offers free plans but also premium plans that start at as little as $5 per month per user. This can be an excellent option for small businesses looking for an affordable project management solution.
RECOMMENDED: Trello vs Monday, Full Comparison
Slack
Slack has become one of the most popular channels of communication for businesses in recent years. While it's not as focused on project management as the other alternatives, Slack can be an excellent option for teams that need to communicate quickly and easily.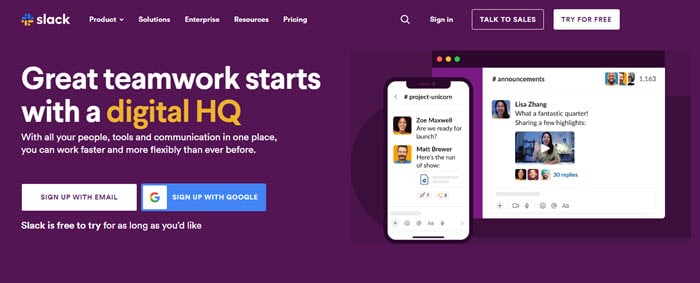 There are plenty of ways to organize teams within Slack and ensure that all members are up to date on the latest developments.
Slack has free plans but also offers premium plans starting at $6.67 per month.
These are just some alternatives to Monday that you might want to consider for your team. Depending on how big your team is, as well as the type of projects you manage, one of these options might be a better fit for you than Monday.
Which One is Right for You?
Breaking down your goals is the most crucial part of choosing the right project management software for your team.
Depending on your industry, there is a good chance that one of these platforms will have the details you need to get the job done.
Assessing your team's needs is the best way to determine which project management software is right for you. If you're still unsure, most platforms offer free trials so you can test them before making a decision.
Here are some questions that can help you choose the right project management software for your team:
How large is your team?
What type of projects do you manage?
What is your budget?
What are your team's needs?
Which features are most important to you?
Although some of these questions may seem trivial, writing them down is an excellent way to assess your team's needs.
Once you know what your team needs, the decision will be much easier. There are many great options out there, and choosing the right one is essential to ensuring the success of your projects.
Making the Switch
If you're unsure which project management software is right for your team, most platforms offer free trials so you can test them before making a decision.
If you're already using a project management software and are looking to switch to one of the alternatives listed above, here are some tips to make the transition easier:
Define Your Goals
Before you make the switch, it's essential to define your goals. What are you hoping to achieve by switching software?
Are you looking for more features? A different user interface? Better integration? Once you know what you're looking for, it will be easier to choose the right software for your team.
Export Your Data
Most project management software platforms allow you to export your data to easily import it into your new software.
This is a critical step as it will ensure that you don't lose any progress on your projects. Backing up your data is always a good idea, even if you're not planning on switching software as it can help you quickly recover if something goes wrong.
Train Your Team
Once you've chosen the new software and imported your data, it's time to train your team. As I mentioned earlier, low levels of adoption and utilization is where most businesses lose money when investing in SaaS products.
Most of the Monday competitors I've recommended above offer some form of training, whether it's through a tutorial, YouTube series, or more hands-on customer support with a success team member assigned to your account.
Ensuring that your team is comfortable with the new software is essential to making the switch (and your investment) successful.
Switching to a new project management software can be a big decision, but it doesn't have to be complicated. By taking the time to assess your team's needs and defining your goals in advance, you ensure you're set up for successful adoption.
Staying On Track
There are multiple reasons why projects fail, but one of the most common is a lack of clarity with project tasks and plans. Developing a system to manage your projects can help you avoid these failures and keep your team on track.
Here are a few key tips to help you manage your projects regardless of the software you use:
5 Tips for Successful with Your New Software
Make a plan and stick to it. A plan is critical – it gives you a roadmap to follow and helps you stay on track. When using project management software, create and follow a project schedule.
Delegate tasks wisely. One of the best ways to stay on track is to delegate tasks to others. When delegating, choose people capable and willing to do the job correctly.
Stay focused. It can be easy to get sidetracked when working on a project. To stay focused, set goals and deadlines for yourself, and stick to them.
Be flexible. Things will inevitably come up that throw off your plans. When this happens, be flexible and adjust your plans accordingly.
Keep communication lines open. To stay on track, keeping communication lines open with all team members is important. This includes regular check-ins and updates on progress.
By following these tips, you can stay organized and on track with your projects, ensuring their success. It's never easy to keep everything in order, but with a little effort, it can be done.
Avoiding pitfalls for your project organization requires a little attention to detail and some proactive thinking, but having some good mitigation strategies in place will save you a ton of headaches later on.
Common Pitfalls to Watch For & Avoid
When using project management software programs, it is important to be aware of the common mistakes that can be made. One such mistake is forgetting to save your work. Always be sure to save your work regularly, especially if you are working on a time-sensitive project.
Another common mistake is not properly tracking tasks. When creating a project, be sure to track all the tasks that need to be completed to avoid overlooking something. This is especially important if you are working with a team of people on a project.
How the Best Tools Help
Choosing a good project management software can help you avoid these mistakes by keeping everything organized and in one place, so keep this at the forefront of your mind when selecting a software.
Tasks can be broken down and assigned to different team members, but it is important to have a master list that everyone can refer to.
Another common mistake is not setting proper deadlines. Deadlines are important in order to keep a project on track. Without a deadline, it can be easy to let a project drag on and become disorganized. Be sure to set realistic deadlines that allow enough time for the task to be completed without rushing.
Finally, another common mistake is not clearly communicating roles and expectations. Be sure that everyone involved in a project understands their role and what is expected of them. This will help to avoid confusion and frustration down the road.
Frequently Asked Questions
When establishing and maintaining the effective organization of your projects, a few questions come up repeatedly. Here are a few of the most common questions, along with their answers:
What are the benefits of using project management software?
Project management software can help you to stay organized and on track with your projects. It can also help you delegate tasks and keep communication lines open with all team members.
More than this, I find that what it helps with most is transparency across teams. Whether you're using a Kanban board system, or another setup – allowing every team member to visualize and track project workflow is a key benefit of project management software.
This allows you to quickly identify bottlenecks and swarm that project to free up everyone to move tasks to completion with efficiency.
How do I choose the right project management software for my team?
Choosing the right project management software for your team depends on a number of factors, including:
the size of your team,
the type of projects you typically work on, and
your budget.
Be sure to assess your team's needs and goals before making a decision and choose the solution that will empower you.
How do I get started with project management software?
There is no one-size-fits-all answer to this question. The best way to get started with project management software depends on your team's needs and goals.
However, a good place to start is by looking for a software program that offers a free trial period or a free license option (as all of the Monday alternatives I've recommended here do).
This will allow you to try out the software and see if it is a good fit for your team before making a commitment. Get others on your team involved and give it a real trial by fire. You may find that one or two members of your team really step up and champion one tool, which can aid in team-wide adoption.
How does project management software help organize my team?
Selecting the right project management software can help you to organize your team and keep everyone on track. Look for a software program that offers features such as
task delegation,
task tracking, and
communication tools.
These features will help you stay organized and ensure that everyone knows their roles and responsibilities.
If you're managing a remote team (as I do), a tool with strong communication tools (chat, video) may be something you prioritize.
Can I use project management software for personal projects?
While project management software is typically used for business purposes, there is no reason you couldn't use it for personal projects. If you are looking for a way to stay organized and on track with your own personal goals, consider using a free project management software tool (both Trello and ClickUp work well for this).
Final Takeaways for Choosing a Monday Alternative
Project management software can be extremely helpful in organizing and managing team tasks. I remember how skeptical I was of Trello when I first used it in a corporate setting. I feared that time spent updating the board, or creating projects for my direct reports would lead to a loss in productivity.
It turns out that I was very wrong. Now I'm a huge proponent of these tools.
Project management software allows you to delegate tasks, track progress, and communicate with your team more effectively.
While this article has focused on Monday alternatives and competitors, it's worth taking a moment to say that there's a great deal to like about Monday, and if you've struggled with adoption, maybe it's time to step back and seek training and support instead of migrating to a new tool altogether.
Whatever you choose for your team, I hope that this article has been helpful in getting you closer to completing your next project (making your choice).