Google Workspace (formerly G-Suite) is an all-in-one hub for enterprises wanting to stay productive in the cloud, facilitating seamless sharing and collaboration. However, Google Workspace licenses cost money, and many of the individual apps you'll find in Workspace are available for free. So why upgrade? Is Google Workspace worth it?
If you're weighing up Google Workspace as a solution for your business, you may be wondering if it is worth it. After all, most of the apps and services in Workspace are also available for free. So, what exactly makes Workspace a value proposition?
Today, I'll talk about the differences between Google's free apps and Google Workspace. As a quick spoiler, there are many when you scratch a little below the surface.
SuiteGuides.com is reader supported. If you make a purchase after clicking a link, we may earn a commission at no additional cost to you.
What You Get with Google Workspace
Google Workspace comes in three business tiers.
Business Starter ($6 user/month) – Custom and secure business email, 100 video participants in Google Meet, 30GB Google Drive storage per user, Security and Management controls.
Business Standard ($12 user/month) – All the perks in the Business Starter tier with 150 video participants in Meet and recording, and 2TB of cloud storage per user.
Business Plus ($18 user/month) – All the benefits of the previous two tiers with eDiscovery and Retention for emails, 250 video participants in Meet with recording, and attendance tracking, 5TB cloud storage per user, and Enhanced security and management controls, including Google Vault.

You may have noticed the options that Google lists as perks for Workspace (high cloud storage, Google Meet expansions, and security) are unique. The company does not use its apps as the selling point of Workspace because the apps are free.
Google Apps: Differences Between Free and Workspace
Workspace is comprised of popular Google applications such as Gmail, Drive, Docs, Sheets, Slides, Maps, Meet, and Chat. You can use all of those apps in some capacity for free (and I think these Google Apps are one of the top options as a free Workspace alternative), but there are some crucial differences for each when you have a Workspace license.
I'll walk through some of those key differences below:
Gmail
Gmail is arguably Google's most popular service and it is the most widely used email platform in the world. Let's be clear that Gmail is an amazing app in its free form.

For many users, there is no need to have the paid version. Certainly, you don't lose much functionality.
One of the best things about Gmail is its dynamic inboxes, which automatically sort emails into categories. This makes finding important emails so much easier. It's worth noting the dynamic inbox is included as part of the free Gmail version.
So, what do you get in Gmail when you buy Google Workspace? Arguably the biggest perk Google Workspace customers get is the ability to customize email addresses.
This feature alone is often enough for small business owners to pay for Workspace over the free Google Apps. For businesses, the ability to have custom professional email address names is hugely important and adds a touch of class to emails that can make even the most disorganized startup look like it's for-real.
In the free version of Gmail, your email address always ends with @gmail. With a Google Workspace subscription, you can create email addresses that end with @yourdomain.com.
This could be your business name or just about anything you want. It is worth noting you need to be the owner of the domain to use it in your email address, but when you sign up for Workspace you can register a new domain.
Alternately you can register a domain with Bluehost, Namecheap, or other domain registrars and link it to your Workspace Gmail account.
Also, for Gmail, Google Workspace users can migrate their data from another email client. For example, if you also use Microsoft Outlook, you can migrate emails, calendars, and contacts into Gmail.
Google Meet
Google Meet has become a massive part of Workspace over the last year as more and more people turn to remote work. Furthermore, communication and collaboration across organizations and externally is becoming mainstream in enterprise.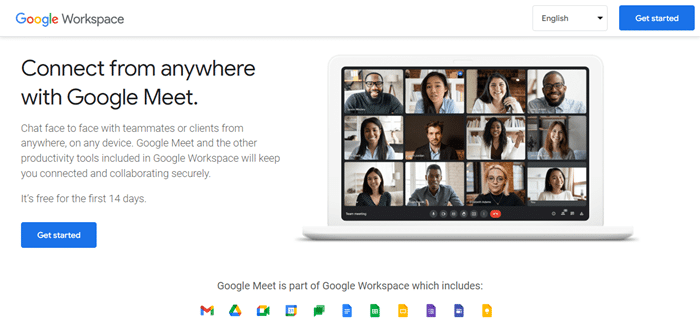 Video conferencing service Google Meet provides a voice and video chat tool for the workplace.
If you're an individual such as a freelancer working at home or a student, the free version of Google Meet is sufficient. Virtual meetings are capped to 100 participants in the free version.
But when you subscribe to Google Workspace, you can increase the number of participants up to 250 on video and also enjoy features such as attendance checking and recording.
If you're a student or an executive holding regular meetings, the Google Workspace version of Meet is the best choice.
Google Drive
Google Drive is a cloud storage solution, but it is also a file-sharing platform that in many ways underpins the whole Google Workspace experience. It is the cloud backend that is used when you share and collaborate across Google Apps.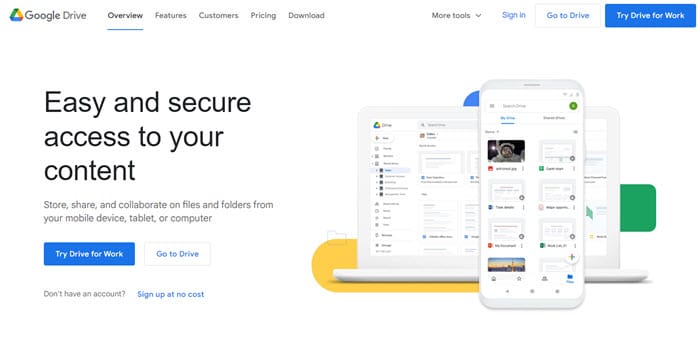 When Workspace replaced G Suite, Google made some pivotal collaboration changes to ensure all apps now integrate seamlessly with each other.
Workspace feels like a single ecosystem rather than a collection of apps, and that's because of Google Drive. It's worth noting the free version of Google Drive also provides the sharing aspects across apps such as Gmail, Meet, Docs, Sheets, and Slides.
However, the amount of cloud storage you get is capped at 15GB.
With Workspace, Google provides more generous storage options, starting from 30GB Business Starter plans to 5TB for Business Plus customers. These storage amounts are per user.
Integrations
Google Workspace provides a lot of bang for your buck just from Google's extensive selection of apps and features. However, you can extend the functionality of the platform further by tapping into integrations from third-party developers.

There are thousands of integrations available (too many to list here). However, all the big names are included, including Facebook, Slack, Trello, and even rival Microsoft Office.
The free version of Google Docs, Sheets, and Slides is far more limited in which integrations it allows. You'll still get support for Microsoft Office files, but many business-centric apps are not available.
If your business likes a streamlined system of interconnected apps, Google Workspace is a better option than free Google apps.
Admin Console
If you use free Google apps, you are probably familiar with the apps page that shows all the company's applications. You cannot really do a lot with this, other than switch between apps from that page.
In Google Workspace, this page becomes much more useful because it acts as an admin console. Here you will find controls that allow you to manage users and devices under the Workspace subscription.
This includes who has access and what data can be shared. This is an important tool for organizations to control who can control how Workspace functions.
Among the available tools is the ability to add and remove users, giving you control over who uses Workspace apps or not. You can also assign groups and schedule meetings through Calendar.
Additionally, you can decide which apps users can access and which they can view. If you don't want a subset of employees to access Gmail, you can block them from the Admin Console.
Device Management gives you further controls, allowing you to decide which devices can access Google's apps. For example, if you have sensitive data, you can choose to block access to that data from smartphones.
Is Google Workspace Worth It?
Simply put, if you are a business, Google Workspace is worth the investment. Yes, you can use Google apps for free, but there are several limitations for small business and enterprise users who go this route.
The ability to integrate workflows and collaborate across your business is enhanced significantly when you purchase Google Workspace licenses for your organization.
Furthermore, you will get no admin controls if you don't subscribe, and employees would essentially be using apps as individuals. Not only does this make it impossible to track sensitive corporate communications and data, but if an employee leaves your company they can take all of their work and projects with them and you'll never see it again.
No thanks.
If you want a synced collaborative productivity suite, Google Workspace delivers where Google's free apps cannot. To try it out and see the differences for yourself, you can claim your free 2-week Google Workspace trial right here.