Google Workspace (formerly G Suite) represents a comprehensive suite of secure cloud computing, productivity, and collaboration resources for enterprises. It primarily helps businesses succeed in undertakings that require numerous departments to work well together. For many companies, this means investing in IT platforms that optimize processes, streamline workflows, and meet project goals. Smaller companies may not want to make this investment to instead look into free Google Workspace alternatives.
Google Workspace was designed to meet such objectives. Its dynamic features, safe third-party hosting, and 99.9% SLA for covered services rank among the top productivity and communication technologies.
Its new pricing policy, along with the business uncertainty during COVID-19, leaves many companies with no choice but to explore other options.
Small businesses may particularly find the subscription cost of Google Workspace licenses high, and this is why you and others are likely interested in low-cost or free alternatives to Google Workspace offering similar features.
Let's have a look at some of the top Google Workspace alternatives right now.
SuiteGuides.com is reader supported. If you make a purchase after clicking a link, we may earn a commission at no additional cost to you.
Use Google's Free Apps Outside of a Workspace License
When you're looking for a free alternative to Google Workspace, the logical place to start is Google's suite of free apps. All you need is a google account to get started.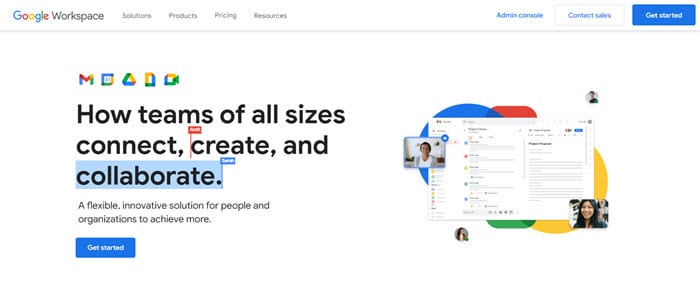 The reality is that almost all of the productivity and collaborative apps available in Workspace are also available for free. The trade-off? You don't have any administrative controls, security is more difficult to maintain, and there's a lack of top-level oversight to how your teams are working in your organization.
But startups on a shoestring budget who can't justify the $6/month/user (really? Google Workspace is very affordable) may be able to cobble together a functional system using Docs, Sheets, Slides, Drive, Meet and other free Google apps without the pro-level integrations and usability that comes with a paid Google Workspace license.
I know that for me and my business, paying for Google Workspace is a no-brainer, but I can totally see how a determined solopreneur could make it work by leveraging the power of Google's free cloud-based productivity apps and potentially upgrading Drive storage to 100GB for about $20/year.
It'll just require more polished systems for sharing and collaboration to maintain the integrity and security of your files and data.

Microsoft 365 Apps for Free
Microsoft is synonymous with modern technology solutions. And while Microsoft 365 Home, Business, and Enterprise editions incorporate advanced feature sets with collaborative applications and management services that rival Google Workspace. And like Google Workspace, lightweight versions of the productivity tools you know and love (like Word, Excel, and PowerPoint) are available for free right here.
Familiar tools include Teams for virtual meetings and chat-based collaboration, SharePoint that facilitates web-based collaboration, and OneDrive for file storage and sharing.
In terms of email hosting, simply utilize Exchange, and use your domain name registered through Bluehost or Namecheap to generate customized business emails. Having a professional email address is a smart method of promoting your brand during communications with customers. Furthermore, you receive consistent online and offline access to Office applications.
Like Google Workspace, you can access most of the primary Microsoft Office cloud-based apps in a browser without installing the applications locally or paying an annual license, but as with Google Workspace – you lose out on some of the features and functionality that come with a one time purchase Microsoft license, or a subscription to Microsoft 365.
Personally – I find that Google's free suite of productivity apps trumps Microsoft's, though you can make that decision for yourself. I also feel that either option is worth the minimal investment to leverage the full power of either Google Workspace or Microsoft 365, but you're here for the free options.
Rackspace
Rackspace is an international name with operations in over 150 countries. It offers services similar to GoDaddy's suite and is best known as an email hosting company in collaboration with Microsoft. Team members can access Office 365 on the cloud, and Microsoft manages the content editing and collaboration service.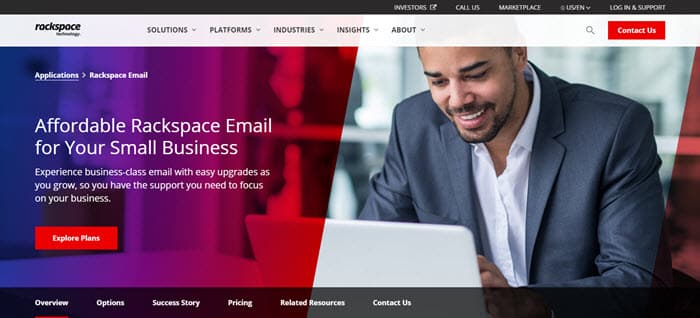 If you explore the Rackspace email platform, you will see that it costs a mere $2.99 per user per month, and you receive everything you need to manage corporate emails. This small investment will earn you Outlook integration, webmail and mobile access, attachments up to 50MB, generous 25GB mailboxes, and 24/7 client support. Depending on your preferences, you can also get email archiving and file storage at a small extra cost.
All these are effective ways for you to hone your marketing, sales, and customer support services.
Do not expect OneDrive cloud storage from Rackspace. If you need this feature, you must purchase a separate OneDrive subscription for storing your files on the cloud.
GoDaddy Email & Office
A popular web hosting company, GoDaddy offers solutions under its Email and Office program that propelled it to the realm of productivity services. Perhaps, the flexibility to create as many addresses as one wants under their company's domain name is one of its best features.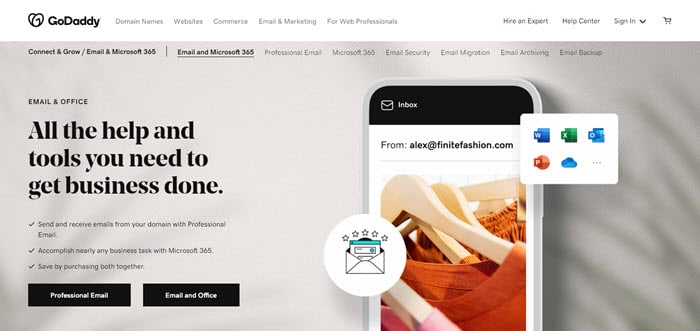 According to GoDaddy itself, there are greater chances of potential clients choosing you over the competition when you have a professional-looking email address. As a result, organizations grow when they have business email accounts.
Additionally, the brand delivers Microsoft 365 applications under its plan. This makes for a worthy combination that provides access to Office applications such as Word, PowerPoint, and Excel. You can also sync up with employees using Microsoft 365.
The only drawback with GoDaddy is that it does not offer any IM application because you must rely on Outlook for email. The Microsoft 365 comment capability makes up for this by facilitating smooth team communications, and you get 1TB of OneDrive storage.
Furthermore, GoDaddy provides powerful web server protection, and you can expect the same for the Email and Office Programs. Its limitless email personalization, along with Microsoft Office 365 support, makes it a reasonable alternative to Google Workspace, even if it isn't free.
Zoho Workspace
Many companies run on a budget especially during times of natural disasters or the upheaval we recently experienced during the world-shifting COVID-19 Pandemic. If you are among them, and you're looking for a free alternative to Google Workspace, Zoho is something you'll surely want to consider.

While Zoho isn't free, it is still designed for smaller businesses with pricing starting from just $1 per user per month (a fraction of what you'll pay with Google Workspace or Microsoft 365). Zoho is a dynamic alternative that features low-cost professional email options.
At this price, you get access to personal email checkboxes, not to mention Zoho Cliq, which promotes business productivity by organizing teams, communications, and workflows.
Other benefits include 25MB email attachments, 5GB storage for each user, and IMAP/POP configurations to connect email clients.
Things do not end here. In addition to creating spreadsheets and documents, you can conceptualize giant projects with Zoho's native applications. Similar to Google Workspace, all applications and services are cloud-based and available online from any device.
There is no limit to how many users you want to collaborate with. For communication, there are applications like Mail, Connect, and Meeting. As far as cloud storage is concerned, each user in one team gets 30GB storage under the Standard bundle. You can upgrade to 100GB with the Professional plan, but this is expensive, and paying $20 or so per year for an expanded 100GB Google Drive capacity might be the cheaper option for expanding cloud storage to fit your needs.
SamePage
This is a versatile business collaboration service with content creation and sharing features more or less like Google Workspace. Online collaboration facilities like IM, voice calls, and file-sharing make it suitable for businesses of all sizes. And the best thing about SamePage, it is free of charge.
SamePage has a unique set of office applications such as calendar management and text editors. It even enables you to bring several teams on a single document for shared editing purposes. You need not shift your Dropbox or OneDrive storage to this platform. Connect your cloud storage and it will be available for your use.
If you are interested in upgrading to the Pro & Enterprise package, you have to pay $7 per user per month. This option is better for large organizations, as it features access to 1TB file storage, as well as other efficiencies that simplify team management.
There are a couple of things to note. SamePage does not support email hosting, but you can make the most of its third-party email integration service. Also, while it's not quite ideal for emails, it's still a good free Google Workspace alternative. It brings users together for seamless collaboration if your company hosts its email service on another platform.
Are Free Google Workspace Alternatives Worth The Cost?
Google Workspace is still a leading business solution, and for me and my business the price is reasonable. One of the things you have to weigh as a small business is the cost of the time saved by going with a professional, integrated office productivity suite.
Is the time you lose by saving those dollars more or less valuable than the price you'd pay for the polished suite of office tools you get in Workspace?
In my experience those savings you're getting on the front end can add up and cost you downstream, so think carefully about your needs and how you'll use these tools for your business or in your home office.
The list that I've put together here may be more helpful for solopreneurs and startups that have virtually no budget for productivity software. I get it – we all started there.
So whether you choose to use the free cloud-based apps from Microsoft, Google, or others – or simply want to register your domain from Bluehost, Namecheap or GoDaddy to get a professional email address to use with Gmail or Outlook, you've got free and low-cost options.
If you are still open to further suggestions, look up archiving services. These allow you to easily store, discover, and manage email, social media content, and SMS databases, within a central repository. In this way, your teams can function in a unified manner.