Google Workspace provides its users with a platform to create, share and grow their businesses online. In order to use Google Workspace, you need to create a Google account and sign up for a subscription. I'll explain how to create a Google Workspace account, step-by-step in today's article.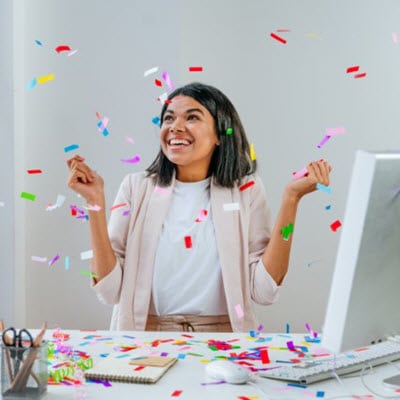 Good news! There are only a few steps involved in creating an account for Google Workspace, and the entire process can be completed in under 10 minutes as long as you start with everything you need. On this page I'll walk you through every step involved in signing up for Google Workspace, with screenshots and illustrations so you don't have any issues.
I've also included some resources and information you'll want to know as a knew Google Workspace account owner, some general information about Workspace, and links that will help you troubleshoot some of the most common issues people may have when using a domain they already own.
To save time, you can click here to jump right to my step-by-step illustrated sign up guide if that's the only thing you're here for.
SuiteGuides.com is reader supported. If you make a purchase after clicking a link, we may earn a commission at no additional cost to you.
What Is Google Workspace?
Google Workspace is a cloud-based productivity suite that helps businesses communicate and collaborate more effectively. It's an all-in-one solution that provides businesses with a solid foundation to grow and succeed online.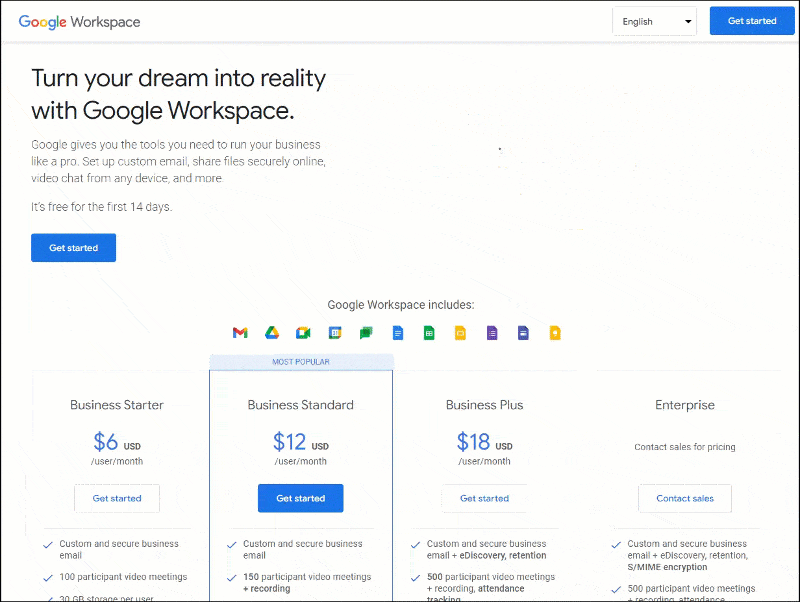 Google Workspace provides a central location with a large variety of applications that cover nearly all functions a business needs.
With Google Workspace, all of your collaboration and productivity tools are neatly in one space. They also are integrated, and work together seamlessly. This makes Google Workspace a good investment for most businesses.

These are some great apps that can give your business an advantage when it comes to workflow organization and online productivity.
If you're still unsure what Google Workspace can do for you, here is some more information on how you can benefit from this tool.
What Apps Does Google Workspace Offer?
There are many apps that come with Google Workspace, but even just the most popular ones could provide your business with a major boost.
These apps include:
Google Calendar
Google Calendar is a great way to keep track of events and appointments, schedule meetings and invite others to discuss projects. Share your calendar with other employees, or set up meeting rooms.
Gmail
Gmail is one of the most popular email services in the world, and for a good reason. Gmail lets you easily send and receive messages, attach files, and enjoy the power and security of Google's search functionality.
Google Drive
Google Drive gives you access to online storage, so you can easily share files and collaborate on projects. Securely store and search all of your documents, spreadsheets & presentations in a single place.
Google Meet
Google Meet is a terrific video calling and versatile teleconferencing tool that lets you connect with employees and customers from anywhere in the world. You can record your meetings and share them as needed.
Google Docs

Docs are a great way to create and edit documents, correspondence, and presentations. It's easy to share Docs with others for review and approval, comments, and to work collaboratively.
Google Sheets
Sheets let you create and edit spreadsheets securely online. You can also share Sheets with others and work on your projects together in real-time so everyone can have access to your data.
Google Slides

Slides is Google's answer to PowerPoint. It's a presentation app which lets you create and edit pitch-decks, lessons, and presentations in real time with your team.

How Will Google Workspace Benefit Your Business?
With Google Workspace, you can organize your business in various ways. When you have this tool, you'll find it easier to streamline your operations and optimize your workflow.
Here is my list of the ways Google Workspace can benefit your business.
Increased Productivity
With Google Workspace, you can access your email, files, and calendars from anywhere.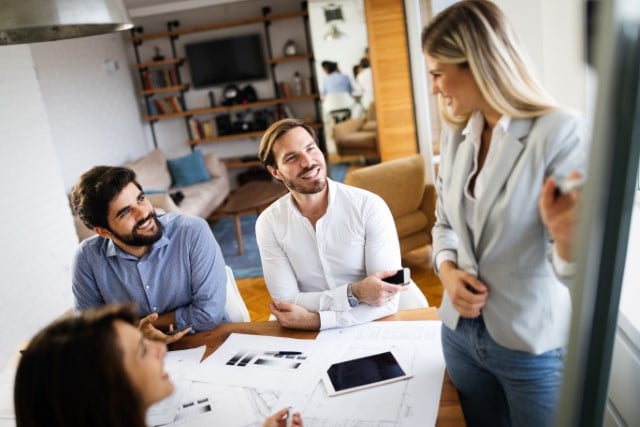 This means you are able to get more work done, even when you're away from the office.
Better Communication
Google Workspace makes it easy to communicate with employees, customers, and partners.
With Google Meet, you can have video meetings with anyone in the world. Plus, you can use Google Calendar to schedule events and appointments.
Improved Collaboration
With features like Google Drive and Hangouts Chat, you can easily collaborate on projects with employees, customers, and partners.
How Long Will It Take To Create a Workspace Account?
It takes around 10 minutes to set up your account and start with Google Workspace. However, you can probably manage the process in about five minutes if you have everything you need ready.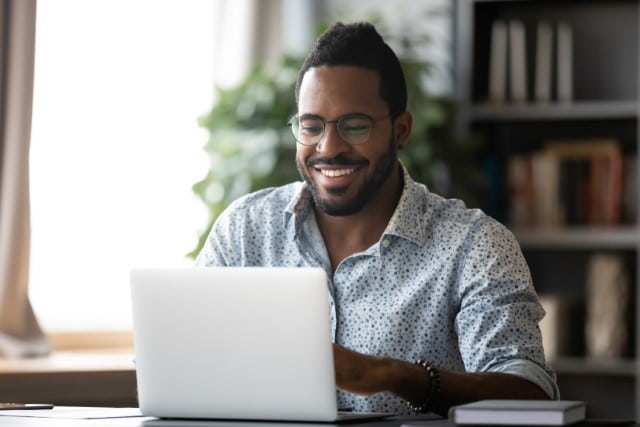 Make the process as fast as possible by having all the following information ready and accessible.
Your business name.
A domain name for your business (i.e., yourbusiness.com). You can either use a domain you already own or sign up for one when you join Workspace.
Names and email addresses for the employees who will be using Google Workspace (for additional user accounts).
Billing information (credit card number, billing address, etc.).
Getting this information ready beforehand can save you a lot of time in the long run. When you're ready to begin, simply follow the steps below.
How To Create Your Google Workspace Account
Here is the step-by-step process of creating a Google Workspace account.
Time needed: 10 minutes
How to Create a Google Workspace Account (step-by-step)
Visit the Google Workspace Website

Start by visiting the Google Workspace website right here. Once there, click "Get started" to activate your free trial. You can do this at the top of the page, or click the appropriate button for the license you'd like to sign up for (Business Starter, Business Standard, or Business Plus):


Enter Business Name, Size & Location

On the next page you'll need to enter your business name, the number of employees, and your region or location. When finished, click "Next":


Enter Your Contact Information

Since you're creating the Google Workspace account, you'll be the admin (you can change this or add another admin later if you need to). On the next step you'll need to enter your contact information, including your first name, last name, and current email address. This can be your business email address, but it doesn't have to be. When you're done, click "Next":


Tell Google Your Business Domain Status

From here the process changes a bit depending upon if you have a business domain or if that's something you still need.

If you have a website and domain already, you can click "Yes, I have one I can use" and you can enter that domain information and follow the next prompts in the process (you'll be asked for your domain name, and you'll be asked to confirm you want to use that domain). Your current email configuration will remain in-place until you set up Google Workspace email service later. If you go this route, skip ahead to step 8 in this how-to guide. If you have any problems, this page will help you troubleshoot.

If you don't yet have a business domain and want one, click "No, I need one".

Both choices get you to the same place (step 8, below) after a few steps, but in this tutorial I'll show the steps to choose and register a domain since that will probably be more helpful to see:


Choose a Domain Name

After you click "No, I need one", Google will prompt you to search for a domain name. For most people, this will be the name of your business. It's possible that someone has already registered the domain you want, but Google will provide a list of close alternatives that are available. You can do as many searches as you need to until you find a domain name that you like. When you do, click on it:

Confirm Your Choice

Once you've clicked on the available domain you want, Google will display the price, and let you see how a business email with this domain might look. You don't have to purchase this domain right now, but since it's available Google will help you purchase it for the displayed price after you've finished creating your new Google Workspace account. Click "Next" to keep going:


Add Your Business Information

On the next screen you'll be asked to enter your business information. This is needed to register your domain name later. Enter your street address, city, state, zip code, and a business phone number. Then click "Next" to continue:


Choose Whether or Not You Want Tips Emailed To Your Users

This next step is where folks who already had a domain will rejoin those who picked a new domain, and the rest of the Google Workspace sign-up process is the same for everyone. On this screen you'll choose whether or not you want Google to occasionally email information, tips, and guides to users in your Workspace account to help them make the most of your investment. I recommend opting-in, because the content is pretty good. You can always opt-out later. Click "Ok":


Create Your Username and Password

Next you'll be prompted to create your username and password for your Google Workspace admin account. Your username can be up to 64 characters long (really?) and your password can be up to 100 characters. Obviously you should choose something difficult to guess, and something that is unique and not used elsewhere. "Admin" is not a good username or password, and neither is your name, birthday or something that's easily found online. You know the drill, right?

When you're done, confirm your humanity and click "Agree and continue":


Add Billing and Payment Information, Add Users

Google Workspace comes with a 14-day free trial, and you won't be charged right away, but to create a Workspace account you will need to add your payment information. This will prevent any interruption of service in a few weeks when you decide to continue with Workspace. My advice is to set a reminder on your phone for 13 days later. That way you can cancel your subscription before getting charged if you find Workspace isn't for you (you won't – it's awesome!).

In addition to adding billing information, you'll be asked about how many user licenses you'd like, and which license plan will work best for you. You can set up all of the accounts for members of your team right now during the account creation process, or you can add those additional users/licenses later.

Whatever you decide, this is pretty much the last step to create your new account. All down-hill from here!


Once your payment information is in, your Google Workspace account will be ready to go!
What to Do First After Creating Your Workspace Account
You can do quite a few things once you've set up your account, but we've listed some of the most important things below.
One of the very first things you'll want to do is customize your business profile. This includes adding a description, location, hours of operation, and contact information.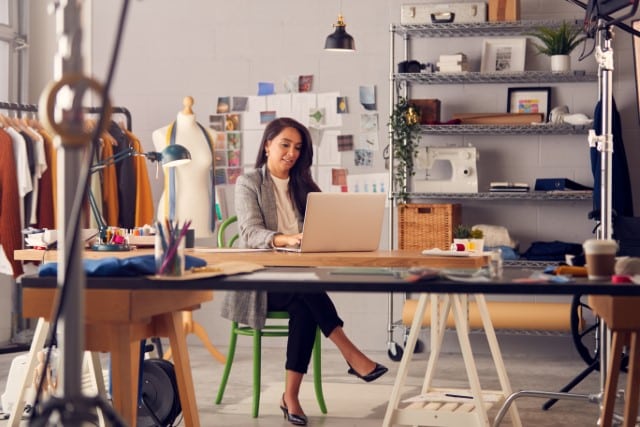 You can also add photos, videos, and other forms of media to make your profile more engaging.
Another important thing you'll want to do is create user accounts for your employees. This will give them access to the tools and resources they need to do their job.
You can also start using Google's suite of productivity tools, such as Calendar, Drive, and Hangouts. These are great for collaboration and can help you get work done more efficiently by allowing your team to visualize deadlines and get reminders when work is due.
Finally, you should consider taking some time to familiarize yourself with the Google Workspace Admin Console. This is where you'll manage your account, users, and settings.
Spend some time exploring the options and familiarize yourself with everything available.
You could also consider getting a Google Workspace certification for yourself or for key members of your team.
What Can You Do If You Need Help Using Workspace?
Google Workspace offers plenty of support options that can help if you're having trouble using the platform.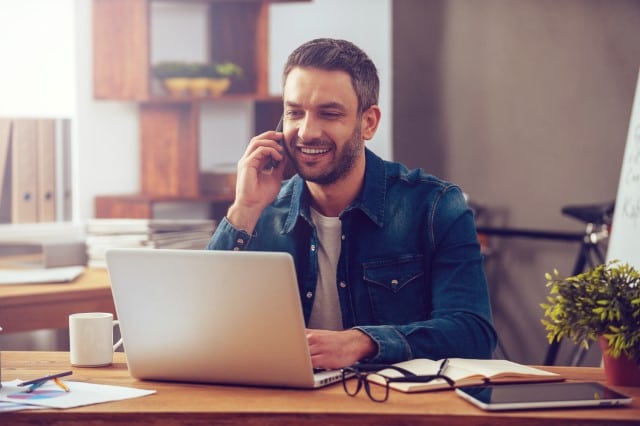 I highly recommend exploring the Google Workspace Learning Center. It's packed with helpful articles, tutorials, and videos that can teach you everything you need to know about using Google Workspace.
You can always directly contact support if you find that you have specific questions that need answering. A good support team is very important if your business handles time-sensitive projects or if you possess critical data that needs to be accessible at all times.
Resources for New Google Workspace Account Owners
Google Workspace has an almost endless amount of resources that are free to access and can help your business attain its maximum potential with the service. Google provides you with the tools to succeed regardless of your team size.
There is training available from the Google Workspace resource center that can give your team the edge it needs to grapple with key projects.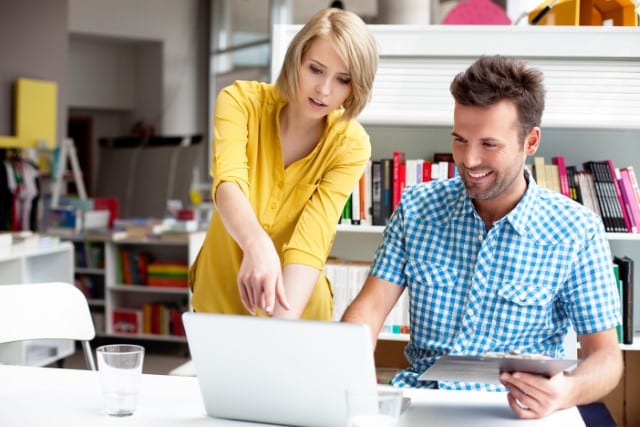 Each of these tutorials provides a wide range of tips, tricks, and general best practices for using Google services in the workplace. They're also constantly updated, so you can be sure that you're always getting the most relevant information.
There are also community forums available, which can be an invaluable resource when trying to figure out how to do something specific with Workspace. If you have any creative new ideas, these forums are also a great place to share them with other users and get feedback.
How To Make The Most Out Of Google Workspace
Your business can really benefit from using Google Workspace, but only if you use Workspace in the proper ways.
Here are some simple tips that can help you get the most out of the platform:
First of all, you should ensure that you're using all of the features and tools that Workspace makes available. There isn't a point in paying for a service if you're not going to use all of its features. Explore everything that Google Workspace has to offer and find ways to incorporate it into your workflow.
Another thing you can do is take advantage of the integrations that are available. There are many third-party apps and services that integrate with Google Workspace, which can really extend its functionality. This is something you should definitely explore if you want to get the most out of the platform. There are free integrations available as well as premium paid ones to help your business grow.
Consider your options and factor that into your decision before finalizing your setup. Although a lot of efficiencies are present within Google Workspace, keeping things organized is key.
Create a Google Workspace Account Today!
Google Workspace is a great program that can give your business a central foundation for success. Everything is in one area so you can manage your account, users, and settings with ease.
Now that you know how to create a Google Workspace account and understand that getting started is a very simple process that can take as little as 5 minutes, you're ready to go.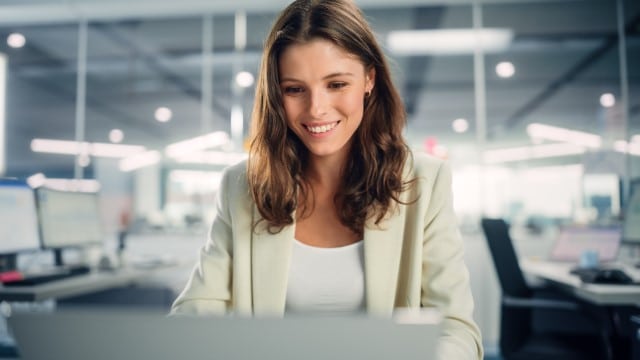 Having your business on Google Workspace can connect you with millions of other people and businesses worldwide.
There is plenty of support available if you need help using any of the features, and there are even additional resources that can take your business to the next level. You can access training to make sure everyone in your team is getting the most out of the software.
Take your time to consider the pricing options that are available to you and decide which one is best for your business. You can always upgrade or downgrade your plan at a later stage if you need to. Not sure if something's going to be a good fit? Sign up for the free trial first.
Once you've made your decision, creating your Google Workspace account is a very straightforward process. Follow the steps I've gone over here, and your Workspace will be up and running before you know it.