Taking the dive into business ownership is scary enough – you don't want to worry about email servers, hosting fees, and other technical details. You've always liked Gmail – it's what you're familiar with, it's the most popular email service on the planet, and it has a host of powerful features. So is Gmail for business free, or will you have to pay for professional email service as a startup or growing business?
Setting up a Gmail account for your business is completely free. If you currently own a domain already, you can add this email domain to your Gmail account at no extra cost to give your business a professional look on all email correspondence. If you don't have a domain, there are plenty of cost-efficient options available, and you can pay for a Google Workspace license if it's in your budget.
Having your email appear as "@yourcompany.com" gives your business a much more professional appearance and helps customers to remember your email address.
Google has evolved to make things easier than ever for users to transition to professional emails to help grow their business. Google Workspace provides a great way to organize and keep all business activity in one spot.
SuiteGuides.com is reader supported. If you make a purchase after clicking a link, we may earn a commission at no additional cost to you.
What Is A Google Workspace License? (how much is it?)
Google now offers a new type of subscription called a Google Workspace license (formerly it was called G Suite). It's an all-in-one subscription that includes access to various Google apps and services.
Security and administration features are also included.
The Google Workspace license is available in three tiers: Business Starter, Business Standard, and Business Plus.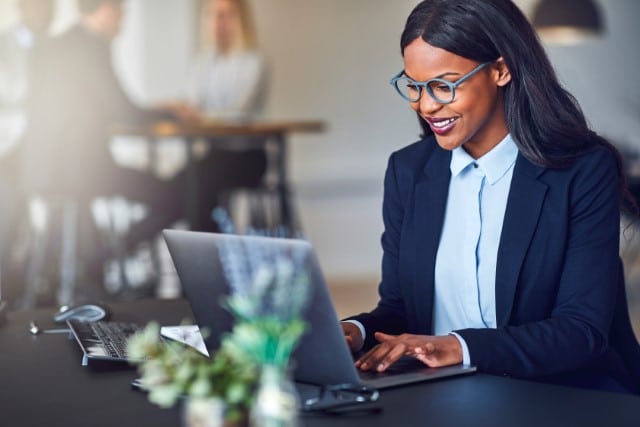 The cost of each tier is as follows:
If you're interested in using Gmail for Business but don't need a lot of cloud storage space, the Google Workspace Basic subscription is a good option. It's the least expensive, but it includes access to professional Gmail, Calendar, Drive, Docs, Sheets, Slides, Sites, and excellent video conferencing with Google Meet.
The key benefit you get from paying is increased storage space. With a Google Workspace Business Starter license, you get twice the amount of storage than you will with a free Gmail account. It also makes collaboration and sharing easier and more secure.
If you need an expansion of your storage space or want to use additional features, you can upgrade to a higher-tier subscription, or you can add storage space as a one-off purchase (but it's usually less expensive to upgrade to Business Standard – Google's most popular option).

The Benefits Of Using Gmail For Business Email
There are several benefits of using Gmail for Business email. Here they are below.
Increased Storage Space
As mentioned above, you get twice the amount of storage space with a Google Workspace subscription. This is very helpful if you need to keep large files or many emails.
Better Security
Google offers enhanced security features for businesses, including two-step verification and data loss prevention.
Improved Collaboration
With a Google Workspace subscription, you can use features like Calendar and Drive to better collaborate with team members.
24/7 Customer Support
If you need help, you can contact Google's customer support team anytime, day or night.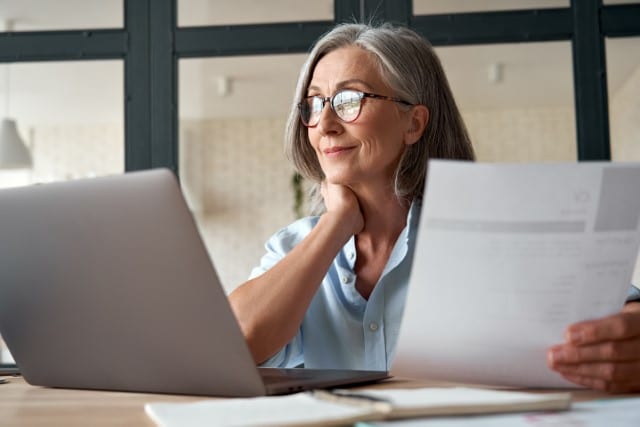 Gmail is a great option if you're trying to find a definitive and affordable email solution for your business. It offers all the features you need to stay organized and productive, and it's backed by Google's world-class customer support.
How To Set Up Your Business Gmail Account
Of course you can set up a simple @gmail.com email account to use for your business, but I don't recommend it for a number of reasons.
My recommendation is to use Gmail for your professional email with a domain that you own and control. If you have a business website already and own your domain for that you can use that domain name for your Gmail for business email service. And if you don't own a domain name yet, you can purchase one for a few dollars from Google during the sign-up process.
To do this, follow these steps:
Time needed: 10 minutes
How to Set Up Gmail for Business Account (with or without a domain name)
Begin the Sign-Up Process

Go to the Gmail for Business page on the Google Workspace website and select the "Get started" button:


Enter Your Business Details

Take a few seconds to fill in some basic information about your business, including its name, size, and location. Then click "Next":


Enter Your Contact Information

Google will then ask for basic contact information, including your first name, last name, and your email address. This can be your personal email address since you're setting up a new professional email address with Gmail. Click "Next" when you're finished:


Tell Google if you Need a Business Domain for Your Gmail Account

On the next screen select "No, I need one" when asked if you have already registered a professional domain name for your business (unless you have one, in which case choose the other option, and you'll enter that and confirm ownership before moving on):


Choose a Domain Name

If you need a new business domain name for your email account, you'll be prompted to search for a domain name for your business. Google will tell you if your preferred domain is available or not, so you can test a few different ideas out to find one that is available and that will work for you and your business. If the one you type in and search for is already registered, you'll see some similar options that are available. You can do as many searches here as you need to, and when you find one you like, click on it to select it and go to the next screen.


Finalize Your Choice

Once you've found a business domain name that is available (and that you like), Google will tell you how much it costs to register it, and give you a few quick examples of how you'll be able to use that domain for your Gmail business email account in Google Workspace. If everything looks good, click "Next":


Do You Want Tips & Information?

Next Google will ask if you'd like them to send helpful tips, guides, and information by email to your users to educate them and help everyone on your team to make the most of your investment in Google Workspace. I recommend that you do this (you can always turn them off later). Click "Ok":


Enter Your Business Address & Phone Number

Next Google will ask for your business address and phone number. Enter that information and then click "Next":


Choose a Username and Password

Finally, you'll choose a username and password for your Google Workspace admin account. Make sure to choose a unique password, that uses a combination of letters, numbers, and symbols. Something you haven't used elsewhere, and which is totally unique. Confirm your humanity, and then click "Agree and continue" to finish up!


Add Billing & Payment Information

Finally, you'll be asked to add some payment information so that you can be charged once your 14 day free trial is up. You can always cancel if Workspace is not everything you hoped for. I usually recommend setting a reminder on your phone so you can cancel before you get charged if you decide that Workspace isn't for you (but I'll bet you love it!).

How To Set Up Your Gmail Account If You Have A Domain Name
If you have a domain name ready, you can set up your professional business email through Gmail for free. Here is what to do:
Go to the Google Workspace website and select the "Start free trial" button.
On the next page, select the "I have a domain name" option.
Enter your domain name and click "Continue."
Follow the instructions to set up your account.
If you want to use any additional features, such as Calendar or Drive, Google Workspace provides a centralized and convenient location for everything.
Setting up a business email account was once tedious and challenging. However, Gmail has made it easy to set a custom email address for your business.
Registering a Domain Name For Your Business Elsewhere
If you don't have a domain name yet, don't worry – it's easy to register one with Google, but you can also get one when you sign up for website hosting.
I recommend using Bluehost (it's what I use for this website and others I own), as they are an official Google partner and offer a free domain name when you set up your website hosting profile with them.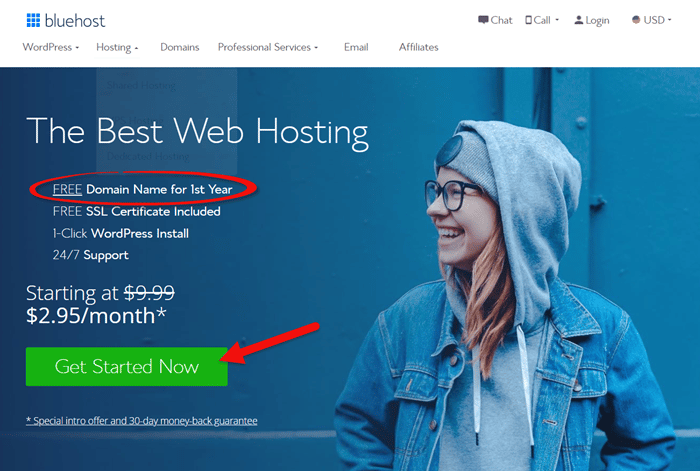 I've also received great support whenever I've needed it – their 24/7 chat service is excellent, and their support team has always been able to quickly resolve any issues, or help out with technical support or WordPress setup for me.
To register a domain name with Bluehost, follow these steps:
Go to the Bluehost website and select the "Get Started Now" button.
Enter the name of your desired domain into the search bar and select "Check Availability."
If your domain name is available, select "Add To Cart."
On the next page, select your account plan and "Continue."
Enter your billing information and select "Submit."
Once your domain name is registered, you can set up your Gmail account.
Using Bluehost is an excellent alternative to setting up your Gmail account without a domain name. Bluehost is an official Google partner, so everything can be done within the Bluehost website, simplifying the process.
Why Invest In A Professional Email With Gmail?
Although there is an initial upfront cost to set up a professional email account with Gmail, many benefits make it worth the investment.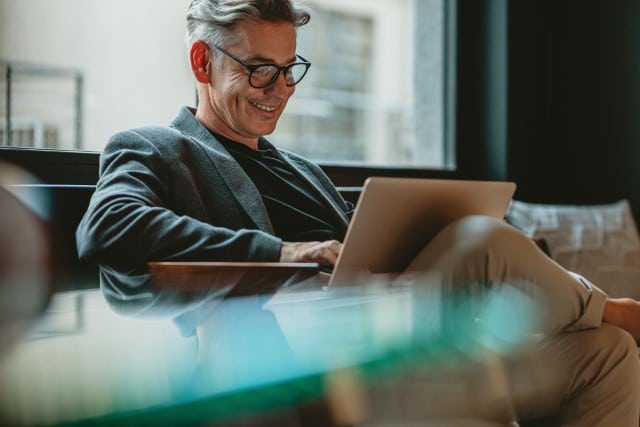 Some of these benefits include:
A more professional appearance: When you use a professional email address, such as [email protected], it will give your business a more streamlined and professional appearance.
Better brand recognition: A professional email address with your domain name will help improve your brand recognition.
Increased credibility: A professional email address will make your business appear more credible and trustworthy.
Improved customer service: You can set up automated messages to provide better customer service with a professional email account.
Better organization: Gmail offers powerful tools to help you organize your inbox and keep track of important messages.
Google streamlines setting up a professional email account, so you can start reaping the benefits immediately.
Gmail is an excellent option for business email because it offers several features and benefits that are well worth the investment. We recommend using Gmail if you're looking to set up a professional email account.
RELATED: How to Add an Image to Your Gmail Signature
Benefits Of Google Integration For Your Business
Google has plenty of great partners that offer various services that can be integrated with your Gmail account. These integrations can make it easy to manage your email, schedule appointments, and stay organized.
Better organization within a small business can significantly improve productivity and efficiency. Making a small investment in Google integration can pay off in the long run by making your business run more smoothly.
Google's paid Workspace plans offer integration that can also reduce costs in the following ways:
You can use Google Calendar to schedule appointments and events. This can help you avoid double-booking and save time by keeping all your events in one place.
You can use Google Drive to store files and share them with others. This can save you money on storage fees and make it easy to access important documents from anywhere.
You can use Google Hangouts to communicate with employees and customers. This can save you money on long-distance phone calls and make it easy to connect with others.

There are many other integrations that Google offers, which makes them a good fit for most companies.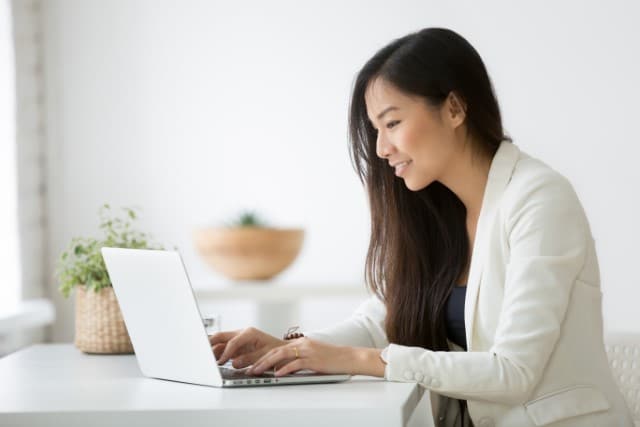 No matter how you integrate your business with Google, you'll find their years of experience make them a valuable partner. Going with a company that knows their stuff can help your business succeed.
Is Gmail For Business Free?
As I've shared here, there are a few different approaches that you can take. There's no single "right" way to set up professional email for your business. Let's go over the best options below.
The first option is to set up a Gmail account using a personal email address without a domain name. This option is free and great to take on board if you're just starting out with Google Workspace and don't have a domain yet.
The second option is to set up your Gmail account with a domain name registered through Google by following the instructions in this article. This is the best financial avenue if you have a domain name already registered.
The third option is registering a domain name with Bluehost if you want to avoid using workspace entirely. This option allows you to manage everything from one spot and streamlines the process. Although this option isn't free, there are some great benefits from using Bluehost, and you can set up professional Gmail using your new domain in just a few clicks.
It's crucial to carefully consider your options and decide which opportunity is best for your business.
Google offers a wide range of integrations to make it easy for you to manage your email, schedule appointments, and stay organized. No matter which integration you choose, you'll find that Google's years of experience make them a valuable partner for your business.
Coming around to the question of "Is Gmail for business free?" The answer is a resounding yes! There are many benefits to using Gmail for your business email, and I recommend taking advantage of all that it has to offer.
Google gives you the tools to succeed and grow, and as you do so, the paid plans can save you time and money.