Google Drive provides a secure way to store, share, and collaborate on files. But with such a large range of features, it can be tricky to know how to configure Drive for your business. You'll want to set things up to fit your goals, needs, and preferences. Today, I'll share with you my guide for how to set up Google Drive to make sure it works well for you and your team.
Google Drive can be set up on a free Google account or under a Google Workspace license. The way you set up your Google Drive may depend on factors such as:
your storage needs
intent to use business features
requirements regarding support
A well-organized and accessible Google Drive is important for individuals and teams. If you plan to use Drive for work or private use, taking some time to set it up correctly will save you a huge amount of time and frustration down the road.
SuiteGuides.com is reader supported. If you make a purchase after clicking a link, we may earn a commission at no additional cost to you.
What Is Google Drive?
Google Drive is a storage service that's part of the larger Workspace platform from Google. It lets users save and store various types of files in the cloud, including text, images, videos, and Google Docs (Google's own suite of productivity tools).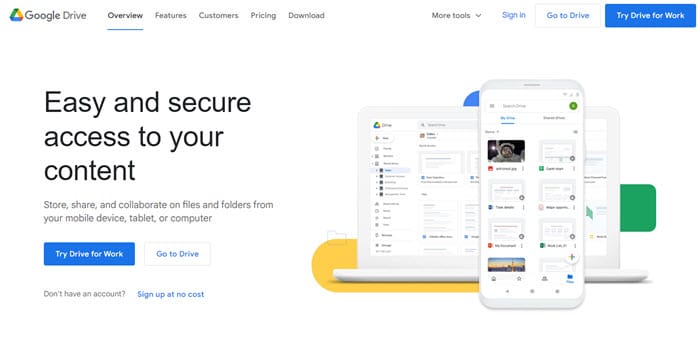 The organization ability that comes with the program and the sharing and integrations allow for great collaboration among teams. Users can also view their files on any device with an internet connection, making it a flexible option for long-distance employees.
Google Drive connects individuals with a common goal, whether a work project or a private folder, and lets them share, comment on, and edit documents simultaneously.

Why Use Google Drive For Your Business?
A huge range of perks comes with setting up your Google Drive. Businesses that use the cloud-based storage system have access to the following:
Comprehensive storage (depending on your Google Workspace account type)
Real-time collaboration on documents, spreadsheets, and presentations
A wide variety of integrations with other business software
Offline access to files
Version history for all stored files
Advanced security features
Regardless of how you are going to use your Google Drive, the features that come with both the free and business versions make it a storage solution worth considering.
What to Know Before Setting Up Google Drive
There are a few key factors to keep in mind when setting up your Google Drive.
Depending on your business's needs, you may want to consider the following:
How much storage space do you need
Who will need access to which files and folders
What type of files you'll be storing (e.g., Google Docs, PDFs, images, etc.)
How you'll be using your Drive (for work or private use)
Your budget for a Google Workspace license
Figuring out what you need to get started will help to make the setup much smoother and also ensure that you get the most out of your Google Drive.
A good understanding of your business limitations and needs can help you increase productivity and optimize your Google Drive for success.
It's also important to have all your personal and business information ready to speed up the sign-up.
How To Set Up Your Google Drive
Having a Google account is the first step to using Google Drive. If you don't have a personal account with Google, you can create one for free.
The free tier also allows you to access up to 15GB of storage and access to a range of other applications.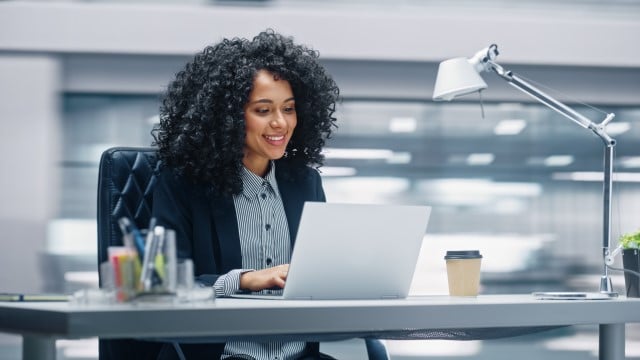 Setting up your Google Drive will require you to first register with Google. After that, sign in and you can access your Drive and start using it.
Here are some helpful tips if you're not sure where to begin.
Create folders for different projects or topics
Label your folders and files, so they're easy to find later on
Utilize the search bar if you can't find what you're looking for
Take advantage of Google's productivity suite by creating Docs, Sheets, and Slides
Make use of Drive's sharing features to collaborate with others
Upload files from your computer or create new ones directly in Drive
Suppose you're unsure whether you need to consider additional storage or feature upgrades. You may want to think about looking into some of the additional benefits of upgrading to Google Workspace.
Do You Need a Workspace License to Use Google Drive?
While you aren't required to pay anything to use the free version of Google Drive, you'll deal with certain limitations. The free tier only gives users access to 15GB of storage, which isn't enough for some businesses.
If you don't want these limitations, you'll need to get a Google Workspace license. Thankfully Google has made the pricing of Workspace very straightforward and easy to calculate for business owners.
Security is a major reason to consider upgrading your Google Drive to a premium Workspace account. With the free version, businesses have limited security features available to them.
Enhanced support also becomes accessible from the business standard plan and higher.
Storage is very important for businesses of all sizes, and upgrading to Google Workspace is the easiest way to upgrade features while also upgrading storage.
If you are looking for a solution to storage alone, then the Google One plan is a better option to consider.

What Can You Do To Organize Your Google Drive?
The base features of Google Drive include the ability to create and manage folders, set up access permissions, search for files and content, and use the productivity suite.
It can be difficult to know where to start when you first start using Drive. Creating folders for different projects or topics is a great way to organize your Drive and keep your files tidy.
You can also label your folders and files, so they're easy to find later on.
The search bar is a great way to locate specific content if you can't find what you're looking for. Searching for files and documents is one of the main advantages of storing information digitally.
Larger businesses and teams will be able to take advantage of Drive's sharing features to collaborate with others. This is a great way to work on projects together, share ideas, and get feedback from team members.
If you have data that you want to keep offline or access when you don't have an internet connection, you can upload them from your computer or create them directly in Drive. This is a great method to keep your most important files safe and secure.
Tips For Keeping Your Data Safe In Google Drive
There are a few things that you can do to keep your data as safe as possible in Google Drive.
One of the easiest methods is to use the security features that are available, beyond the robust Google Drive encryption. You can (and should) set up access permissions so that only certain people have access to certain files.
I recommend setting this up at the folder level so that you have less to manage and maintain. You can also color-code your folders by department and adopt naming conventions to help improve clarity and help all admins understand permissions and who should have what sort of access to what.
Having clear guidelines set with your employees is also a great way to keep your data safe in Drive. You can set up different levels of access and permissions so that only certain people have access to certain areas, only key people have edit permission on sensitive files, etc.
Having a good structure of folders and files is so important for keeping your data safe. You can use the search bar to find specific files, but if you have a lot of data, it can be difficult to keep track of everything. And setting permissions at the folder-level is much easier to maintain.
Doing this allows you to set access for your entire team folder-by-folder, and then every file and document that is added to that folder is certain to be available in the right way to the right people.
If you have access to the advanced tiers of Google Workspace, taking advantage of features like Vault and Data Loss Prevention can further help to keep your data safe. Understanding all the security options available on Google Drive will help you to keep your information secure.
Now You Know How to Set Up Google Drive
Training using the resources available from Google can help your team to use Drive more efficiently and take advantage of all the available features.
When your team is using Drive, they will be able to access their files from anywhere and share them with others easily. They can also use the search bar to find specific content, which can be a great time saver.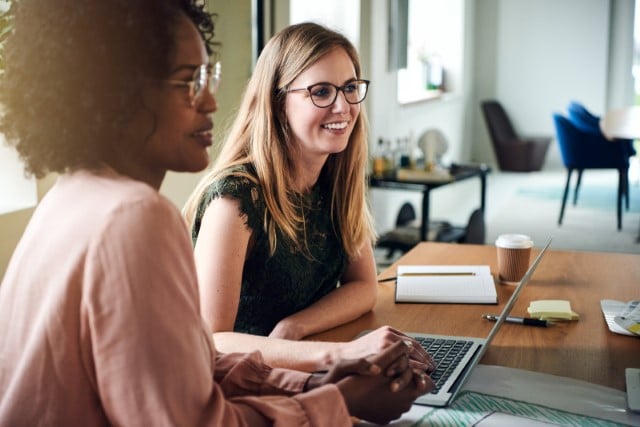 If you have team members who are working on different projects, they can use Drive to share files and collaborate with each other. This is a great way to get ideas from different team members and work on projects together.
Google Workspace certification and training can help your business cover any knowledge gaps. If you find that you encounter problems while setting up your Drive, you can always consult the help center or community forum for answers.