Many of us are Google users. However, as a business owner, you may be considering Google Workspace — or at least you're curious about whether it will work for your team. Formerly known as G Suite, today's Google Workspace offers businesses a range of online productivity tools. Included is professional Gmail, Google Meet video conferencing software, Calendar, Docs, Sheets, Keep, Slides (Google's version of PowerPoint), and Drive. The Google Workspace Business Standard license is the mid-level (and most popular) option. It falls right between Google's two other plans (Business Starter and Business Plus).
In this article, I'll cover the features, pricing, and some less-discussed aspects of the Google Workspace Business Standard plan. I'll try to give you the most important facts (skipping the stuff that's not likely to impact your decision). My goal is to help you decide if this will be the right fit for your business.
SuiteGuides.com is reader supported. If you make a purchase after clicking a link, we may earn a commission at no additional cost to you.
About Google Workspace
Google Workspace was traditionally viewed as the cheaper and more accessible option for businesses compared to competitors such as Microsoft Office 365. This made it very popular among small businesses who wanted to keep down costs.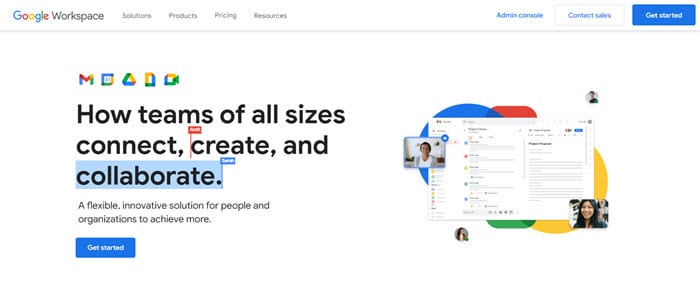 However, a recent increase in the price of Google Workspace has made choosing the service a more complex decision.
Many potential customers are left wondering if it Google Workspace is still a financially viable option and what exactly you get in return for those license fees.
Today, I'll take you through exactly what you'll get if you choose the Google Workspace Business Standard Plan. I'll share its pros and cons, and provide an honest assessment of whether or not it's a worthwhile investment compared to other alternatives.
Spoiler: I think it's a great option, and I recommend taking advantage of the 14-day free trial to take it for a test drive. I have a full guide that walks you through the sign-up process when you're ready to give it a try.

What You Get with Google Workspace Business Standard
The Business Standard plan will allow you access to the whole Suite of Google's productivity apps. While most similar guides will walk you through each one of these apps, I encourage you to focus how Google's products work together. With Workspace, the sum is greater than each of the individual parts, and it's the way each product integrates seamlessly with the others in Google Workspace that makes it such a powerful cloud-based productivity suite for businesses.

Popular Google Workspace Apps
A few important apps that you'll use all the time include:
Gmail: Each user can send and receive emails securely using a custom professional email address (@yourcompany.com). Users will appreciate being able to switch between personal and professional email accounts. By this I mean you can reply from john.doe @yourcompany.com or sales @yourcompany.com. In addition, users may be comforted by an existing familiarity with Gmail. It's one of the most powerful, popular, and feature-rich email platforms available.
Meet: Teams can use Google Meet for crystal-clear video and audio for live discussions. Up to 150 participants can attend a call, so with the Business Standard license you can potentially host whole-company meetings. These meetings can also be recorded with the Standard plan. This allows you to share recordings right from Drive with anyone who couldn't make it due to a scheduling conflict. This way your team is always on the same page.
Calendar: With Google's Calendar, you can share appointments as well as organize group and individual schedules. In Workspace you have the opportunity to create and manage shared calendars as well. This is a great way to keep individual departments organized and on track.
Docs: With Docs, Sheets, and Slides, your team can collaborate and co-edit files, documents, and presentations virtually in real time.
Drive: With Drive, users can store up to 2TB each on the Standard plan. Drive is fully encrypted, and with a little thought and planning you can set up and organize Drive sharing permissions to make sure everyone on your team has proper access to everything they need (and nothing they don't).
And again, the true value of Workspace is how effectively these tools work in harmony to bring teams together.

Beyond productivity tools, your Business Standard license also provides you with access to Google Vault security and 24/7 support from Google Workspace experts to quickly troubleshoot issues.
Google Workspace Business Standard Price
I mentioned that Google Workspace had recently gone up in price, but exactly how much does it cost?
The Google Workspace Business Standard plan costs $12 per user, per month.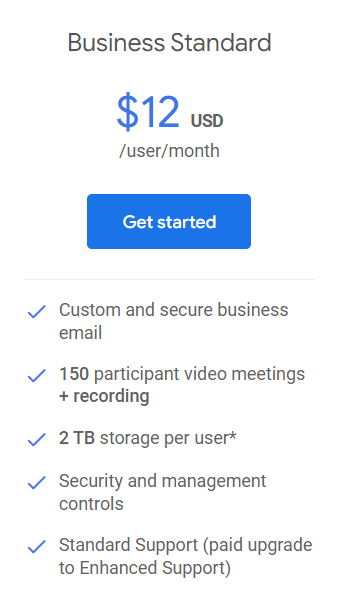 This marks a $2 increase compared to what the Standard plan rate used to be, but the quality of the apps and the way they integrate have improved. To me, the price is still a great value, but everyone will feel differently about that.
For smaller companies, the price increase is easily manageable due to a limited number of licenses. For companies with close to 300 users, this small increase makes Google Workspace Business Standard significantly more expensive.
But when investing in software, think about what you will gain by the purchase – not only the expense.
If a suite of productivity tools will significantly increase your team's productivity, then that's money well spent.
You also have
if your needs change.
The nice thing about Workspace pricing is the flexibility. Paying monthly allows you to just pay for what you need as you need it. The monthly per-user license model is ideal for seasonal businesses that may bring on employees during their busy season, and scale back during the rest of the year.
With Workspace, you only pay for what you need and use.
Who is the Business Standard Plan for?
The Business Standard plan is twice as expensive as the Starter Plan. This means you may be trying to choose between the two.
The Business Standard license is the most popular option Google offers for a reason.
The plan could be an excellent choice if you:
Have a medium-large sized team (100+ members of personnel)
Want to have all of the productivity tools included in the Starter plan, but are also keen to record meetings and archive emails and messages (Google Vault).
Don't want running out of storage space to become a concern. The Starter Plan only offers 30GB of storage per user compared to 2TB with the Standard Plan.
Would like to have a large number of participants in video and audio calls.
Don't require advanced admin control and security (as is permitted with the Enterprise plan)
If you need even more storage and more advanced security measures, choose Business Plus or Enterprise.
Pros and Cons of Google Workspace
Now you know exactly what the Business Standard plan consists of. Here's a summary of the pros and cons of Google Workspace more generally.
The chief competitor to this Workspace license is the Microsoft 365 Business Standard license. So I'll compare the two here as well if you're trying to decide between them.
| Google Workspace Advantages | Google Workspace Disadvantages |
| --- | --- |
| Convenient: It's very handy to have all of your office productivity tools together in one place. Switching between Gmail, Docs, Drive, and Meet is very easy and this ultimately saves you time and effort, making you more productive in the long run. | Microsoft 365 is more advanced: When you compare Docs to Microsoft Word, Sheets to Excel, and Slides to Powerpoint, you may discover they come up short in some key areas. For example, they are less flexible in terms of formatting and there are fewer functions available. This is limiting for power users, but may be unnoticeable to others. |
| Easy to use: All of the Workspace tools are easy to get your head around. Docs and Sheets, for example, will be familiar to Word and Excel users, making the transition to using them easy. Gmail is the most popular email client on the planet. Your team will hit the ground running. | Necessary to have internet access: As Google Workspace runs in the cloud, you need a constant internet connection in order to use it (for the most part). However, it is possible to edit documents offline and then have the changes sync once you're back online. You need to update settings to do this. |
| Collaboration and sharing: One of the best things about Google Workspace is how easy it is to work collaboratively and carry out teamwork. Multiple users can co-edit the same document simultaneously and files can be shared instantaneously from one user to another. | Can be incompatible with Microsoft: Docs, Sheets, and Slides usually support Microsoft formats, however there are occasion display issues and difficulties can arise when converting from Microsoft files to Google and vice-versa. Instances of this are rare (I've personally never had this problem), but it's still worth mentioning as a concern. |
| The cloud: Google was the innovator behind the concept of working in the cloud. Competitors like Microsoft followed suit. All of the Workspace tools run from web browsers, meaning no software is required, and changes are autosaved in real time. | Security: Storing data in the cloud can be riskier than storing it locally. However, Workspace does permit you a 2-step verification system (Business Standard) and if you ever upgrade, you'll enjoy additional security measures. In my experience the benefits of working in the cloud outweigh the risks. |
| Range of tools: The diverse range of productivity and collaboration tools is impressive and fills almost every need you and your business is likely to have. | Complications with multiple accounts: If you have several Google accounts (i.e. personal and professional accounts), it can be a nuisance to switch between them constantly. |
| Cloud Storage: On the Business Standard plan, you get 2TB of storage per user. Outside of a handful of team members, this is likely to be sufficient for just about everyone. Files created using Docs or Sheets (and Gmail messages) don't count toward your storage limit. | |
| Price: Microsoft 365 Business Standard is priced at $12.50 per user, per month if you pay annually. If you want the flexibility of paying monthly (as you can with Google Workspace Business Standard) you have to pay $15 per user, per month with Microsoft. This makes Google Workspace a much better value, both in terms of its ability for its price to reflect your changing needs throughout the year, and in terms of the hit to your bottom line. | |
| Free Trial: A free 14-day trial is available, allowing you to test out whether it's a good fit for your company or not. | |

Is Google Workspace Business Standard Worth It?
If you came here hoping to understand the value of Google Workspace Business Standard, I hope I've helped!
Most businesses will find Google's most popular license worth the money and a great investment in their team.
If you are a small business, you probably do not require huge amounts of storage. You also may not worry about archiving messages/emails/meeting recordings. In this case, the Business Starter plan for half the cost may be a better fit.
If you expect you'll need the extra storage capacity, security features, video call archiving, and more; then you'll be very happy with the Business Standard license from Google Workspace.
I'm a huge fan of Google Workspace, use it myself, and highly recommend it.